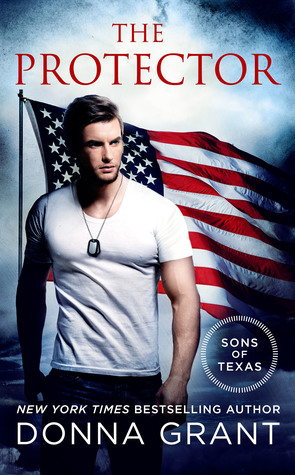 The Protector by Donna Grant: The Protector, the second book in Donna Grant's Sons of Texas series, is Cullen Loughman's story. He's the youngest of the three brothers. If you read my review of the first book in the series, The Hero, you know how much I enjoyed that one. This one was a great continuation of the storyline.
At the end of The Hero the three brothers split up, each going in different directions in an attempt to find their father, Orrin, and discover just what exactly the biochemical weapon that he sent his sons was capable of. Cullen's mission is to meet up with former Air Force pilot Mia Carter, the last person to see his father and his team alive.
Mia is determined to help Cullen find Orrin. The man had saved her life and she was determined to do the same for him. Cullen is understandably suspicious of her. Orrin's team was killed in her hanger, after all.
Her head whipped around to glare at him. "Go ahead and waste your energy believing I was part of the kidnapping. I'll continue to focus my efforts on finding Orrin. That's what I was doing in Panama."
Both Cullen and Mia have endured horrors in their lives, making them wary and suspicious. It also makes them determined to right the wrong that has taken place.
There was something about Mia Carter he found compelling, and it had nothing to do with her beauty. She was very much like him, he suddenly realized. Wary of the world with a look of cynicism she didn't bother to hide.
Cullen is also dealing with the guilt he felt for not having bothered with his father in years. All three of the brothers blamed Orrin for their mother's murder, yet not once did they sit down with him and ask what really happened.
He jerked at the realization that he was jealous of Mia. Envious of the time she'd had with Orrin, time that should've been Cullen's. Resentful that his father had so willingly taken in others when he had three successful son of his own.
Who hadn't needed him.
Readers finally find out just what the bioweapon is capable of doing. People who were enemies are really allies, and some allies have become suspects. Cullen and Mia have no idea who to trust, as members of the Saints are everywhere, and they're determined to get the bioweapon back.
There's not as much interaction between the brothers in this book as there was in The Hero, since they've split up. I'm looking forward to the next book, which is Wyatt's story. Wyatt, the oldest brother, seems to have the biggest issue with Orrin. It'll be interesting to see if all three brothers will be able to find their father to make peace with him, and if they'll be able to come together as a family once again.
The Protector does not work as a standalone, since the bioweapon and kidnapping storylines are carrying over through each book and building on the book before it. It's action-packed and filled with mystery, as no one seems to know who is actually running the Saints, who is an actual member of the group, or who can be trusted. If you're looking for a great romantic suspense series, look no further. This is one of the best I've read in a while.
Book Info:
Stacey Bruneau| 4.5 Stars | HJ Top Pick | No |
Publication: January 3, 2017 | St. Martin's Paperbacks | Sons of Texas #2
When Marine Force Recon captain Cullen Loughman learns that his father's been kidnapped, he will do whatever it takes to find him. In order to achieve his mission, Cullen will need to team up with the best of the best—someone who just happens to be the most stunning woman he's ever laid eyes on…
This isn't the first rodeo for ex—Air Force pilot Mia Carter. Still, Cullen's bad-boy good looks and charm are distracting her from duty. . .and it appears that the feeling is mutual. As Mia and Cullen make their descent into a dark, dangerous world, their attraction reaches the boiling point. But is their desire worth the risk when a ruthless enemy is waiting in the wings—or will their Lone Star love conquer all?