I loved Lily Blackwood's debut novel The Beast of Clan Kincaid; therefore, I was excited to read the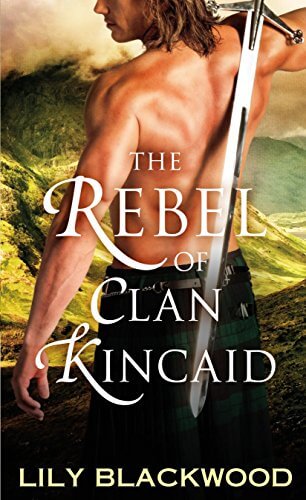 second book in the series, The Rebel of Clan Kincaid. We met Magnus in The Beast when he discovers that he is not the man he believed himself to be – rather than being the bastard son of Laird Alwyn, he is the legitimate and long-believed-dead son of the murdered Laird Kincaid. He now has a brother he never knew about and a third brother is also believed alive but missing. This news rocks his world for obvious reasons, but he is also astonished and enraged to discover that Laird Alwyn played a hand in killing his parents. Needless to say, he is shaken to his core and feels angry and a little lost.
While growing up, Magnus was treated horribly – like an unwanted bastard – by the Alwyn and his legitimate son, Hugh; therefore, Magnus feels no sadness when he finds out they are not related. He has no problem planning and seeking revenge against both men for their part in his parent's death. He does not reveal that he knows the truth of his parentage and begins to plot his next steps when Hugh's betrothed, Tara Iverach, arrives for their upcoming wedding. Tara is opposed to the marriage but her guardian – who colluded with the Alwyn to kill Magnus's parents – is forcing her to his will. Her sister was previously engaged to Hugh before dying under what Tara believes to be suspicious circumstances.
Tara meets Magnus on the night of her arrival after Magnus saves her from brigands. Magnus realizes who she is but is attracted to her and steals a kiss. They both feel instant desire for each other, but Tara does not yet realize he is the brother of her fiancé. While Tara has no desire to marry Hugh and has even less of an inclination after she does, she has no plans to stay or have a romance with Magnus. Hugh is far more loathsome than she ever imagined, but she is unable break the engagement because of her guardian's iron fist.
As wedding plans are finalized and Tara vows to avoid marriage to Hugh, her feelings for Magnus involuntarily grow. Magnus also finds himself wanting Tara more and more, but he is conflicted by his feelings because they complicate his plan for revenge. If he rescues Tara and removes her from Hugh's clutches, he might also lose the opportunity to hurt her guardian, Hugh and the Alwyn and avenge his parents.
I really love Magnus. He is witty, caring and incredibly sexy. The beginning of The Rebel of Clan Kincaid promised an exciting and romantic adventure, but it moved at a slow pace and never really drew me into the story. Tara and Magnus were not together very often in the first half of the book and are kept apart due to a misunderstanding during the second half. The misunderstanding could have been easily cleared up with a little communication; therefore, it was frustrating to not see their relationship progressing. There is so much plot potential around Magnus discovering his identity, wanting to seek revenge and having a brother that it was disappointing to have the "big misunderstanding" trope play such a prominent role in the story.
I did not love The Rebel of Clan Kincaid as much as I loved the first book in the Highland Warrior series, but I still enjoyed it. I will definitely be picking up the third book in the series to read about the third Kincaid brother.

Book Info:

Publication: 12/6/16 | St. Martin's Paperbacks | Highland Warrior #2
Since childhood, Magnus has been led to believe he is the Laird Alwyn's bastard, and raised to hate the Clan Kincaid. But when he learns he is without a doubt the son of the murdered Laird Kincaid, his life as he has always known it is shattered. Now, hiding his knowledge and his fury, he returns to Burnbryde Castle, awaiting the chance to strike against the man whose treachery robbed him of his legacy. His first act of rebellion: to steal a kiss from the redheaded beauty who's betrothed to the Alwyn's eldest son and heir.
Since her arrival at Burnbryde, Tara Iverach has been confined to a tower to guard her virtue before she marries. But after a surprise embrace with a lean, bare-chested Highlander who claims to be the Alwyn's oldest son, she can't contain her excitement over her good fate. Unfortunately, he is the wrongeldest son, and she is set to marry his cruel and lecherous half brother, Hugh. Can Magnus conquer his rivals and claim his Kincaid destiny before the woman who's captured his heart becomes his sworn enemy's bride?