The Rebel of Copper Creek (Copper Creek Cowboys #2) by R.C. Ryan: Griff Warren grew up never knowing who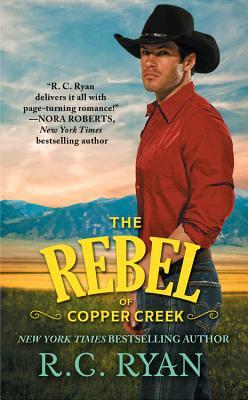 his dad was and endured the taunts from other kids for it. After leaving the military as a decorated war hero, Griff is determined to finally meet his dad. He gets more than he expected in the MacKenzie family and the legacy of the family ranch.
Juliet is trying to raise her young sons while keeping the Greyson ranch from falling apart. Juliet wants her sons to grow up on the ranch since it was important to her late husband. When given the opportunity, she finds a way to use her ranch to help wounded vets through equine therapy.
When Griff runs into a fellow Marine, he gets an invitation to see what therapy Juliet is offering. Griff is surprised by both the state of the ranch and Juliet's adept handling of so many vets who are struggling to adjust to life. While both Griff and Juliet are adjusting to how their lives have changed, they are surprised by the attraction between them.
"You're so gorgeous, with all that sweat and muscle. And I feel…safe when I look at you. I can't take my eyes off you."
He went very still, his lips splitting into a wicked grin. "Wait a minute. Did you just call me gorgeous?"
"As if you don't already know how sexy you look."
He slowly shook his head before reaching out to bring her close. "I hope you don't mind being kissed by a hot, sweaty cowboy. 'Cause lady, there's just no way I can resist after all those pretty words."
Griff is a fierce and loyal protector of Juliet and her boys when she is threatened. Griff is enchanted by Juliet's little boys and he bonds with Ethan and Casey as understands what it's like to be raised by a single mom. Griff can be really sweet as he finds ways to help Juliet around the ranch and with the boys.
Seeing the grin on Griff's face, Juliet turned away. "You can stay out here with Griff for another hour. Then I'll expect you to come in for lunch."
To her retreating back Casey called, "Can we bring Griff?"
"Fine. It's the least I can do to repay him for all this work."
The tone of her voice didn't match the words. Griff realized they were back where they'd started. She was annoyed that he was here, and whatever he did to make it up to her wasn't going to be enough.
The Rebel of Copper Creek is an entertaining romance between two strong characters who find another chance to have a family with each other and the warm, welcoming MacKenzie's. R.C. Ryan created strong and interesting secondary characters in Ethan, Casey, and the MacKenzie family.
Book Info:

Publication: January 27th 2015 by Forever |  (Copper Creek Cowboys #2)
A love worth fighting for…
The last thing widow Juliet Grayson needs is a man in her life. Between caring for her two young sons and maintaining her husband's ranch, her hands are more than full. Then she meets Griff Warren. With his quiet strength and his easy way with her boys, she's tempted to trust him. But if there's anything she's learned, it's that love only leads to heartbreak.
Former Marine Griff Warren never thought he'd settle down. Rebellious and proud, he's always been on his own . . . until the father he never knew he had died, leaving him with land that is his legacy and brothers to share the load. He doesn't need more than that. But Juliet touches something deep inside him—and he wants nothing more than to protect her and her sons. Now if only he can convince her to take a second chance at true love.