In The Rescue Doc's Christmas Miracle (Christmas in Manhattan #4) by Amalie Berlin , after years of struggling with an illness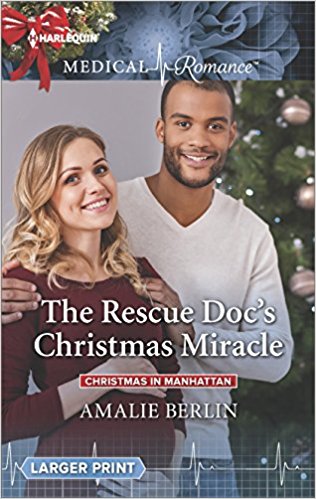 that had her feeling like her family wrapped her up in cotton wool to protect her, Penny Davenport is finally living her dream as a rescue pilot. Though the dangers are there for things to be adventurous enough for her and she tends to drive her partner Dr. Gabriel Jackson crazy and vice versa, they work well together. But when one-night together ends up with Penny becoming pregnant, will Gabriel be able to convince Penny that they're right for each other, or will they lose their shot at happy ever after because they're too different?
"You're being serious? I thought you were just trying to make like…a tension breaker."
"How many proposals have you ever heard of that were made as a joke?"
What does a reader get when Ms. Berlin mixes a pilot heroine that loves the thrill of what she does and is willing to risk all for those she helps; and a hero that is wary and determined not to take risks anymore? Well, I believe readers get an absolutely charming and enthralling read in this book that captivated me right from the start with the prologue, as its an intense moment with what Gabriel and Penny go through to rescue their patient and then how Penny challenges the hero because of Gabriel's limits when it comes to having fun. Moreover, I liked how far the heroine goes in challenging him, even though giving in to their intense chemistry might be more than both of them can handle and lead to consequences neither were prepared for.
As for the dialogue, it was intense due to the medical emergencies these two handle as well as the main characters back stories, especially that of the heroine, as she's been through so much when she was younger. Will her baby have the same thing she did? Moreover, the heroine is resilient, courageous and I liked how determined she was to help people, no matter the danger to herself. I also liked her zest for life and I could understand why she lives for the thrill. While the hero, he's the total opposite to Penny in the way he's wary and plays it safe after his disastrous marriage. However, I liked how he helped Penny to deal with everything she goes through while pregnant, which is proven when she struggles to deal with the physical toll pregnancy takes on her. Will she let Gabriel care for her instead of doing things alone? I also liked how that he took a chance on Penny, even though he was determined to avoid happy ever after again. Can he handle her desire for adventure or will it get to be too much?
=The captain had turned them back toward land. Bless him. "I think we owe him a good tip," she murmured against his neck.
"A better tip than 'Don't take lovestruck idiots up in the middle of winter'?"
"I'm pretty sure he's got that one already."=
Overall, Ms. Berlin has penned another wonderful read for this series where the chemistry between this couple was heady and convincing; and the ending had me loving the hero more than I already did because of what he does for the heroine to prove how much he loves her. Certainly, he wasn't afraid to take a risk with her by his side. However, it was the epilogue that wrapped this story up nicely, because of how good things are between Penny and Gabriel. I would recommend The Rescue Doc's Christmas Miracle, if you enjoy the opposites attract trope or books by authors Robin Gianna, Janice Lynn, Alison Roberts and Amy Ruttan.

Book Info:

Publication: October 17th, 2017 | Harlequin Medical | Christmas in Manhattan #4
From partners to parents!
Dr. Gabriel Jackson and paramedic Penny Davenport make a great team–despite driving each other crazy! She's Manhattan Mercy's daredevil helicopter pilot, who thrives on adventure after a childhood spent wrapped in cotton wool, while he's the cautious flight doctor who, after a disastrous marriage, will never take risks again.
But after the elation of surviving a storm explodes into passion, Penny discovers she's pregnant! This could be an unforgettable Christmas–if they listen to their hearts and take the greatest risk of all!