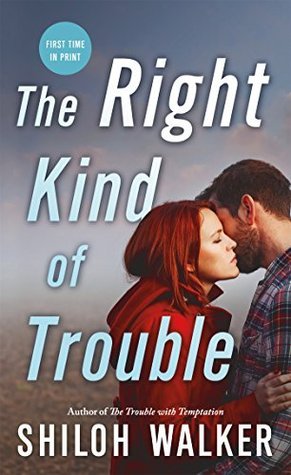 The Right Kind of Trouble by Shiloh Walker: For eighteen years, Gideon has been rejected by the woman he loves, and finally he's decided to move on with someone else on the police force. For eighteen years, Moira McKay has rejected the man she loves, but she's now finally realizing her guilt and pushing him away is only making them both miserable. She wants him back and will do whatever she can to get him back.
Although, Gideon's planning on leaving McKay's Treasure once and for all, he's dragged back in when Moira's life is threatened. And when she finally pulls him back into her life, he doesn't want to let go, but neither can he trust that she's for real.
As the McKay's are targeted more and more, Gideon has to find a way to protect all of them, even though Moira refuses to believe it's someone close to the family.
The Right Kind of Trouble just did not work for me at all. I found both Gideon and Moira unlikable. Both were morose and bitter, and Moira especially was just plain mean. I don't really understand her guilt either. I don't get why she's pushed him away for so long. And honestly, I don't understand how they're still pining so hard for one another after minimal contact for nearly twenty years.
The story, too, had little focus on the romance. Instead it highly centered on the suspense – suspense I wasn't particularly interested in either when it seemed so obvious. Oftentimes, the story was confusing, too. It definitely can't be read as a standalone. But even so, I read the book before, and I was still confused at times. It goes through a lot of different viewpoints.
For those who want suspense and second chances, I'd recommend The Right Kind of Trouble. Second chances in general don't work for me, so that was definitely an issue I had in reading the story. But I do wish there was a bit more joy between this pair. They always seemed so negative.
Book Info:

 August 2, 2016 | St. Martin's Paperbacks | The McKay's #3
Desire won't take no for an answer.
In the small Southern town of McKay's Treasure, everybody knows that the handsome local police chief, Gideon Marshall, has been carrying a torch for Moira McKay. It's also no secret that Moira has been rejecting Gideon since…forever. But after an attack from a mysterious stranger bent on taking down the McKay family, Moira becomes filled with distrust toward most men. Now she wonders whether she's been wrong about Gideon all along—and if it's not too late to admit him back into her life…and into her bed…
Gideon has finally convinced his wasted heart to give up on Moira, who he's loved since he was sixteen years old. Moira's attack changes everything, however—and he vows to protect her. But how much is he willing to risk for a woman who's always kept him at bay…until now? And is it too late for Moira to tell him that her love for him has always been locked deep in her heart—and he holds the key?