The Runaway Bride and the Billionaire (Summer at Villa Rosa) by Kate Hardy: How cliché, the second in command and the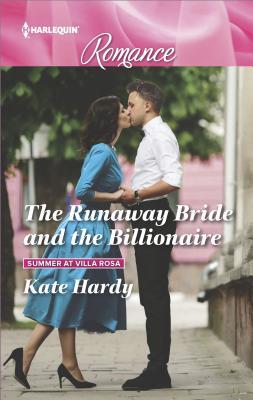 boss' daughter. Unfortunately that was all it was.
When Imogen Marlowe figured out her father's second in command only wanted her because of her father to say she was not happy was mild. However she was thankful it happened before the wedding. She also realized she wanted someone who would make her the center of his world. Not someone who wanted her family.
Matt Stark knew how important family was. He also knew he wanted to be an honorable man, one who didn't poach on other's girlfriends or fiancés. So when the instant attraction happened he was incredibly disappointed to see a ring. Then just a little while later she shows up again and without a ring. How much was he willing to risk though?
Imogen and Matt both were at a cross road in their life. The problem was neither road led to the other, or so they thought.
This is the third in a quartet about the Marlowe sisters. You don't have to have read the first three to enjoy this novel though. It's slow build romantic story that is able to be understood all on it's own. It does have great character development with some good locational descriptions. This is a very tender romance that really shows the build from friendship to lovers. A sweet read perfect for the poolside.

Book Info:

Publication: August 8th 2017 | Harlequin Romance | Summer at Villa Rosa
A Mediterranean escape! Heartbroken jilted bride Immi Marlowe flees to Isola dei Fiore, desperate to get away. But just around the corner from Villa Rosa, a gorgeous billionaire is waiting to sweep her off her feet Matt Stark shares Immi's sense of adventure, and on the island's golden beaches they form a connection that neither wants to end. Immi's stay is supposed to be temporarybut with her secret past revealed, how far will Matt go to prove they can go the distance?