The Scoundrel's Seduction (House of Trent Series #3) by Jennifer Haymore: Obviously, the beginning of a book often determines the direction of an entire book. The Scoundrel's Seduction starts with a state-sanctioned murder—that of a dissolute and traitorous peer. Viscount Dunthorpe is a treacherous and treasonous man, and Samson Hawkins, who works for a shadowy secret organization within the British government, has been sent to be his assassin. There are unexpected complications with the operation, however, not the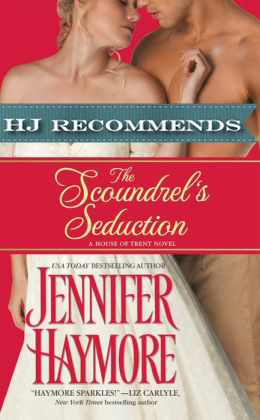 least which is the discovery of Viscount Dunthorpe's French wife cowering under a table, having witnessed the entire event. Of course, Sam (called Hawk) must take her with him as they feel the scene, not knowing if Lady Dunthorpe is also a traitor, or just an unfortunate witness.
Sam and his colleagues rush Lady Dunthorpe to the safe house, and put her into "the dungeon" which is actually a rather nice room in the basement, albeit barred and highly secure. He reports to his superiors he has her, and then Sam works on determining what her role in Viscount Dunthorpe's activities were. Complicating the situation, Sam finds her highly attractive, and discovers himself aroused by her presence, something that has not happened since his second wife died tragically during the war.
The bloody hell of it was, he wanted to touch her. And even more disconcerting, he didn't want her to break when he did so. He wanted to bring pleasure to those feminine curves, to soften those stiff muscles, to mold her body against his, to have her pliant and willing in his arms.
Élise, a small woman who was born in France but has spent much of her life in England, has been abused by the Viscount who she married, an arranged marriage with a man who was twice her age. In her eleven years of marriage she hasn't know any happiness, love or desire, and with him suddenly and violently dead she is thrust into a whole new world. She is a prisoner, and must convince her jailers that she is not who they think she is. She is also no shirking violet, and attempts to escape more than once. At the same time, Élise is almost magnetically drawn the Sam, and finds him irresistibly attractive, which disturbs her since she saw him shooting her husband only a few days prior.
She felt the heat of Hawk's eyes on her, but she ignored how his gaze sensitized her skin, make it warm and achy, prickling with some sensation she couldn't quite name.…it made her crave something she shouldn't crave at all but should fear and despise: Hawk's touch. His strength resonating around her. His powerful arms clasping her, the erotic press of his large, hard body against her smaller one… Dieu. What was wrong with her?
Although Élise gradually convinces Hawk and his colleagues that she is innocent of wrongdoing, his superiors decided that she must die. Hawk can't abide by that decision, so they go on the run, chased by both other government agents and by the late Viscount Dunthorpe's heirs and co-conspirators. At the same time, Hawk is trying to solve a family mystery; his mother, the Dowager Duchess of Trent, has gone missing for a year, last seen in the company of gypsies. His half-brother, the Duke of Trent, and his siblings are all on the hunt, and Hawk also keeps his eyes out for his mother.
Hawk and Élise travel around the country, evading capture, camping outdoors, and falling in love. This is a regency full of adventure, action and activity, not a subdued ballroom-and-garden drama! This book is rife with interesting secondary characters: Sam's agent colleagues, Sam's large family, Élise's connections within the Dunthorpe family, and the entire shadowy organization Sam works for. There are shootings, chase scenes, kidnappings and torture. It is a fast moving romp of a book. There is a lot of backstory also, but this is handled fairly adroitly.
The Scoundrel's Seduction is book three in the House of Trent series. The previous books were hinted at, although I never felt a lack because I hadn't read them. Definitely a stand-alone, I recommend this book, especially those who like their regencies with a liberal dose of excitement!
Book Info:

Published May 27th 2014 by Forever
Temptation Knows No Bounds…
Undercover agent Sam Hawkins has devoted his life to protecting king and country. So when he receives orders to assassinate a ruthless traitor, he doesn't question his mission. But Sam didn't know his deed had a witness—the beautiful and mysterious betrayer's wife. Now he has no choice but to take her as his prisoner—one he can neither trust…nor resist.
Élise, Lady Dunthorpe, will do anything to escape her powerful captor—including seducing him senseless. She didn't know of her miserable husband's crimes, but she has secrets of her own—secrets that threaten everything she holds dear. With his piercing dark eyes and gentle touch, Sam inflames Élise's deepest desires, but how could she ever trust a man who won't let her go? Caught between the crown he's sworn to serve and the woman he's come to love, Sam will risk his heart—and his very life—to keep her safe.