In The Secret to Marrying Marchesi by Amanda Cinelli, London actress Nicole Duvalle 's one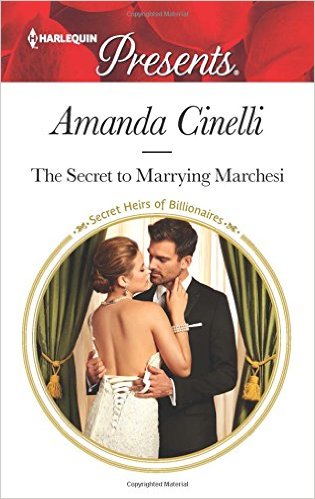 night stand with Italian billionaire Rigo Marchesi resulted in the birth of her precious daughter,Anna but when Rigo refused to believe he was the father,Nicole decided to move far away and raise Anna on her own.
Now a scandal has forced Rigo to acknowledge that Anna is infact his daughter but will he give Nicole the love and respect she deserves?
The Secret to Marrying Marchesi by Amanda Cinelli was a well written romance on the sudden pregnancy trope.
Nicole is a virginal heroine who is fiercely protective of her daughter, Anna. Her own mother did not set a very good example for her and therefore she is determined to give her daughter everything she could not have. Rigo is an arrogant, overbearing hero who is fiercely protective of his business empire. It took me some time to warm up to him because he was really impossible at times but fortunately he grew on me as the story progressed.
The romance is passionate due to the amazing chemistry the characters share and moves at a really good pace. Overall, The Secret to Marrying Marchesi by Amanda Cinelli is an enjoyable romance with interesting characters and a well constructed story.
Book Info:

Publication: April 1st 2016 | Harlequin Presents | (Secret Heirs of Billionaires #3)
Scandal: a secret baby!
Read all about Italian billionaire Rigo Marchesi's secret love child with London actress Nicole Duvalle. The biggest bombshell to hit the Marchesi Group could destroy CEO Rigo's latest business deal. Unless the rumors that the baby scandal will have a fairy-tale ending are true?
This reporter has the inside scoop on their top secret wedding. From Nicole's couture dress to their sizzling clinch outside the honeymoon suite. The chemistry might be real, but the question on everybody's lips is:
Is this a union of convenience, or one of love?