In The Secrets She Kept (Fairham Island #2) by Brenda Novak, It's never good when you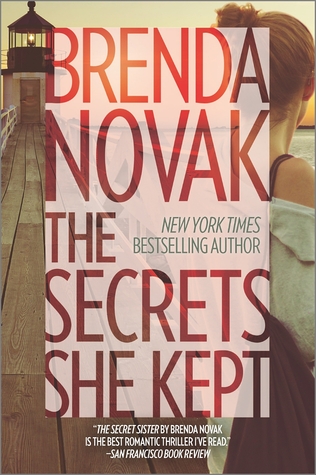 get a phone call in the middle of the night. Unfortunately for Keith Lazarow, the call was from his sister Maisey notifying him that their mother had passed away of apparent suicide. But as he travels from his home in Los Angeles back to his family's estate on Fairham Island, South Carolina, details don't seem to be adding up. How could his mother, the proud, wealthy socialite Josephine Coldiron Lazarow have committed suicide? Keith can't imagine her bringing such scandal to the family name and therefore can only believe that she was murdered.
'Whoever killed their mother had done it for a reason, with forethought and planning, and that told him one thing. The culprit knew her.'
Keith must not only face the possibility that there could be an arduous investigation, but that his family's secrets could also become public fodder. After conquering his addictions five years ago and becoming successful in real estate, he will do whatever he can to stay clean and take care of his siblings Maisey and Rocki as well as their spouses and children. But since the island was a source of constant struggle for Keith, he'll have to face his troublesome past. Including coming face-to-face with former girlfriend Nancy Dellinger, whom he treated quite poorly. He should apologize and leave things be, but once Keith sees Nancy again, he knows there is still too much of a pull between them to let her go so easily again.
'He honestly cared about Nancy, more than any other woman he'd ever been with. He hated that he'd hurt her badly enough that she'd built such a high wall between them–even though he respected her for doing it.'
This. This book right here is why I love Brenda Novak's writing so much! Flawed, wounded, but absolutely likable characters. A complicated, twisting & turning plot that kept me guessing till the end. A second chance romance. Intrigue. Family drama. The Secrets She Kept seriously had it all.
'One had to know Josephine Lazarow to understand just how narcissistic and controlling she could be. That was why Nancy couldn't hold any of his actions–including what he'd done to her–against him. She'd been close enough to see his pain.'
First of all, you can read this novel as a standalone title pretty easily where much of what happened in book one, The Secret Sister, is recapped here. But I think readers will love this so much that they'll end up reading book one anyway. And it's totally worth it. I think it sets up book two and gives readers a bigger view as to the Lazarow family's tumultuous background, explaining the struggles Keith, Maisey and Rocki faced through their childhood and as adults.
This was an extremely complex emotional story, as I would expect from Novak. If you've read any of her previous books then you know she's not afraid to make her characters work for their HEA by facing down their demons. And goodness knows the Lazarow siblings had some tough issues to overcome. I think that was what I loved most about this novel, aside from trying to figure out the truth behind Josephine's death. Keith and his siblings, as well as Nancy, struggled with their own personal problems every single day and by the end, they came out on top. Especially with Keith and his addictions, it was nice to see all of his hard work pay off. Who doesn't like to see someone redeem themselves, right?
I will be honest, though. I wasn't sure I would like Keith or that I would ultimately cheer him on to reconcile with Nancy. But that's what ended up happening. I loved the personal growth he exhibited and how he stepped up to take care of his siblings. Maisey was great…just as strong and steadfast as ever, always willing to lend a supportive hand. And where this was told from multiple POVs, we also got to see into Rocki and her husband Landon's home life which was rocked to its core over secrets that came out, too. So no one was immune to controversy, guilt or potential heartache, making for a very exciting and bumpy ride to say the least.
I think readers will be utterly captivated by the outrageous lies and the years of secrets the Lazarow siblings had to sift through in order to gain closure over their mother's passing. If this novel doesn't keep you spellbound from start to finish, I don't know what will!
Book Info:

Published July 26th 2016 | Mira | Fairham Island #2
Exciting, emotional, intense. The thrilling follow-up to New York Times bestselling author Brenda Novak's highly acclaimed The Secret Sister. The things that happen in families are always surprising and sometimes shocking!
The rich and powerful Josephine Lazarow, matriarch of Fairham Island, is dead. The police say it's suicide, but Keith, her estranged son, doesn't believe it.
Keith bears scars—both physical and emotional—from his childhood, but he's worked hard to overcome the past. After walking away from his mother and her controlling ways five years ago, he's built a new life in LA. He's also accumulated a fortune of his own. But as soon as he learns of his mother's death, he returns to Fairham. He feels he owes it to his grandfather to put the family empire together again—and he's determined to find his mother's killer.
Problem is…coming home to Fairham puts him back in contact with Nancy Dellinger, the woman he hurt so badly when he left before. And digging that deep into his mother's final days and hours entails a very real risk.
Because the person who killed her could be someone he loves…