The Senator's Daughter by Sophia Sasson: What an interesting book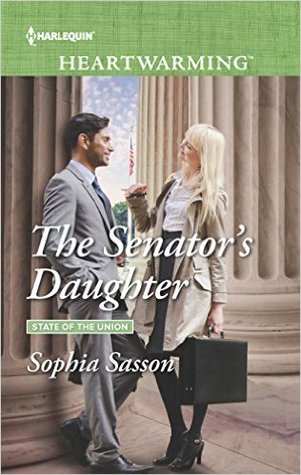 to read amidst this very heated real life political election season! Talk about timing!
The story picks up steam from the very beginning when "Kat" is informed by the news, and the university she works for, that the father she never knew, is a U.S. senator running for election! Put on temporary leave from her job, she begins to shuttle between caring for her mother, who has serious medical and mental health illnesses, and being forced to work on the campaign for her newly discovered father.
This creates a conflict of interest for her, as her beliefs are opposite those in the campaign, regarding what is best for the country. The campaign manager, Alex, is in turn thoughtful toward her, and also torn between his growing feelings for Kat, and his ambition in the political arena. Alex carries a lot of emotional scars from his past, from childhood and from his time in Iraq. As Kat develops feelings for him and vice versa, they both must deal with each others' emotional barriers. And, concurrently, Kat must make sure that her mother is always cared for and is safe at all times. As Kat begins to get to know her father and siblings, surprises occur in these relationships.
This story is a delightful combination of romance, suspense and political fiction! I highly recommend!
Book Info:

Publication: October 1, 2016 | Harlequin Heartwarming | State of the Union #1
He can play the game, but she'll make the rules
Political science professor Kat Driscoll will not be "handled" by anyone. Certainly not by Alex Santiago, the suave, savvy and handsome campaign manager for Senator Roberts, the man recently revealed to be her father. Alex clearly sees the sudden revelation of his candidate's long-lost daughter as an unfortunate glitch in their race for reelection. One that needs to be carefully spun and managed. But Kat isn't about to play along, or comply with Alex's ridiculous attempts to make her more media friendly. He'll have to deal with the real Kat. And maybe, in the process, she can discover the real Alex