In The Sheikh's Bought Wife by Sharon Kendrick, Sheikh Zayed Al Zawba thought Jane Smith was the perfect choice for a wife. Since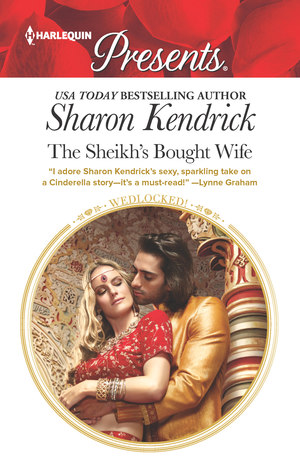 there was no way he could fall in love with someone as plain as her. Yet, the more time he spends around her, the harder he finds it to keep things platonic between them. Will he realize that Jane is his Ms. Right before it's too late?
"How can I possibly be the perfect candidate to be your wife?" she questioned defensively, as it occurred to her that he might be making fun of her. "When everyone knows you've dated some of the most beautiful women in the world and I am nothing but one of your lowly outreach employees!"
"You are a most valued employee," he said carefully.
"But an employess all the same – not one of your many girlfriends!" She glared at him. "What kind of mischief is that you make with your words, Your Royal Highness?"
Now this was a book by Ms. Kendrick that I found I could easily get into, because of the way it started with the hero learning the terms of his grandfather's will. Will he fulfill the terms to get what his grandfather has promised him? Will he find a woman that can stick to the terms he wants to set to be married to him? However, it was from the moment the hero and heroine came face-to-face for the first time that really drew me into this story, as Jane so doesn't treat the hero like everyone else. She's a tad defiant by not showing him the respect he deserves.
As for the dialogue, it flowed really well and the main characters kept me entertained, despite the fact that I thought Jane was way to loyal to her sister. Instead, she should have made her sister clean up her own mess and teach her to start making better decisions. How could she continue to use Jane the way she does? Although, I've got to say that I liked how Jane's sister started to make things right and began to prove she can get her act together and be responsible.
While Zayed, he was confident, charming when he wanted to be and I liked how much of a challenge Jane was for him, because she knew things between would only last so long until the hero had what he wanted. I also liked that he did his best to try to deny his feelings for Jane, but in the end it was impossible. She's so smart and knows so much about his country, so how couldn't she be the perfect woman to have by his side, if he ever considered happy ever after. Since I'm certain none of the other women he usually was with would have the knowledge that Jane does when it comes to Zayed and his country.
"You had no right to throw away my things!"
"Nothing to do with me. Blame your ladies in waiting," he retorted coolly. "They probably thought it outrageous that the new Sheikha should be gracing her husband's bed clad in unflattering attire."
She directed her gaze to the floor, staring at the ground rather than the groin. "Then what am I supposed to wear?"
"Once again you are testing my patience, Jane," he said steadily.
Overall, Ms. Kendrick has penned a really good read in this book where the heroine knows how to push the hero's buttons, because she's not his usual type. And perhaps, that's why they have plenty of chemistry. Yet, she interests him in a way none of the women he's been with ever did. The way this story ended was delightful, as Zayed realizes that a life without love is no way to live, no matter how afraid he was of giving forever love a chance because of what happened to his parents. I would recommend The Sheikh's Bought Fiance by Sharon Kendrick, if you enjoy the marriage of convenience trope, the fake relationship trope or the opposites attract trope.

Book Info:

Publication: April 18th, 2017 | Harlequin Presents |
The desert king's outrageous proposal!
Marry a sheikh in return for a hefty financial reward? Shy researcher Jane Smith would normally have laughed in Zayed Al Zawba's handsome face. Except it's only for six months and the money will rescue her sister who's mired in debt…
Sheikh Zayed will do anything to inherit Kafalah's neighboring oil-rich lands, even wed plain Jane: he'll never long to consummate a marriage with her! But Zayed hasn't bargained on Jane's frumpy clothes hiding delicious curves…or her quick mind and untouched beauty teasing and tempting him beyond his wildest imaginings!