The Sheikh's Convenient Princess by Liz Fielding: Two people not quite on the up and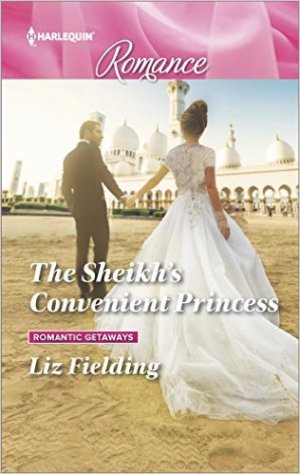 up but both for really good reasons, can they help create magic? Or will the past and their secrets come up and bite them?
Ruby Dance wasn't quite what she seemed. She knew her past, but she knew she had to overcome it. While not her fault it haunted her every step and she was trying her best to make everything right, but for not, she just needed to stay in the background and not cause waves.
Bram Ansari had tried his hardest to do the right thing, he wanted what was best for his country, but there were times it was just so hard to not tell the world. However he was content, or he would be he kept telling himself. Until the time he was no longer and wanted what he could not have, unless he could find a way out of the lies that had started many moons ago.
When Bram and Ruby meet there is something not quite right for either but when bigger problems emerge it doesn't seem to matter, until their pasts come back to bite them. The question is will it end up being a loving bite or will it be deadly?
Ms. Fielding has written and interesting twisting work. The plot starts out fairly straight forward and seems to be very tame until it's not and she has you reading more and more to see where she heads. While it's not hanging on the edge of your seat it is certainly turn the page faster. The back and forth between Bram and Ruby is impressive and incredibly well written. This is sure to be a witty read for you.

Book Info:

Publication: Expected publication: February 7th 2017 | Harlequin Romance |
From secretaryto the sheikh's wife!
Sheikh Ibrahim al-Ansari knows a reconciliation with his estranged father means accepting his father's choice of brideunless he gets there first! Luckily he has the perfect princess in mindhis new assistant Ruby Dance.
After her last cheating boyfriend, Ruby is avoiding all commitments, but this promotion could help her family, so she agrees to a temporary marriage. She should be craving her next assistant role, not the devastating beauty of the desert and the man who rules it all