The Sound of Your Name by Felice Fox: Ellie Donovan, a big city girl with a lot going on in her life is missing something. Unsure of what that something might be her editor sends her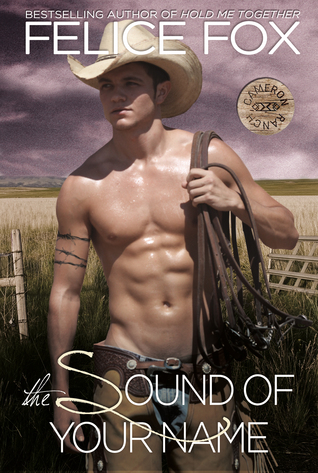 out on a story, one where she gets to be a whole other person. The catch, it's on rodeo riders and she doesn't even know where to begin.
Brody Cameron has had a string of bad luck, some of it on the circuit and some of it in the bedroom, celibate for how long???? Is tonight the night he gives up the ghost? Or perhaps he just needs to take care of himself and then man up and get out there. The family needs the money he could win on tonight's bull.
One chance encounter, one darkened utility closet and two people searching for what to do next. Without a word being spoken these two connect and begin an adventure without many words, but with a whole lot of touch and meaning. However when words could save them there is silence and neither seems willing to break it, could this be the end or will it make them trust one another a whole lot more?
Ms. Fox has brought the Cameron brothers back. This is a part of a series but can be read as a stand alone. If you are like me and didn't realize it was it will make you want to go back and find the beginning of the series though.
The rodeo circuit is a different world and Ms. Fox gives a great accounting of it and more so the people that life the life. As with many sports there are superstitions and the readers are given a chance to view those as well. Overall this is incredibly well written, and all encompassing as a story. The love that runs through proves sometimes you just need to feel and look deeply into your lovers soul.
Book Info:

Published November 7th 2014 by M. Scribes Press
Ellie Donovan couldn't care less about pro bull riders, until she's sent out on the circuit to do a story about them for Modern Luxury magazine. She'd done many things to get a great story, but pimping herself out to a cowboy who thinks she's the only thing keeping him on track for the gold buckle isn't one of them. Being sexy Brody's good luck charm isn't exactly a hardship—until she discovers she doesn't want it to end.
Brody Cameron can't help bowing to cowboy superstition on the night he should have lost his spot on the pro circuit, when a secret tryst with a pretty stranger changed his luck, and his heart, forever. Caught between the love he wants and the money his family needs, Brody can't share the truth with Ellie and risk losing his shot at the big money.
But when Cameron family secrets are exposed, and a jealous rival threatens to tear them apart, can Ellie and Brody break their silence without breaking each other's hearts?