In The Spanish Duke's Holiday Proposal (Christmas in Manhattan #3) by Robin Gianna , Mateo Alves doesn't want the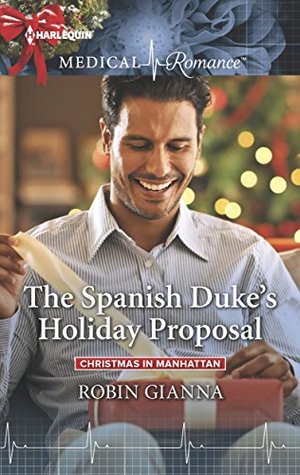 responsibilities of heir to his family's Dukedom, and with parents pushing him he realizes the only thing to do is ask Dr. Miranda Davenport to be his fake fiancé in hopes of getting his parents to finally back off on their wish for him to return home. However, Mateo never imagined he'd fall in love for real. Will he be able to convince Miranda that he's capable of love and has fallen for her with everything in him, or will he lose the best thing that's ever happened to him – the love of his life?
="This is…this is the most outrageous thing anyone's ever suggested to me," Miranda said, and the reality of exactly how outrageous it was made her start to laugh. "But I find that, somehow, I can't resist. So my answer is yes, Mateo Alves. Yes, I will go to Spain with you and pretend we're going to get married."=
Reading a medical romance by Ms. Gianna is always an absolute delight and this third story in the Christmas in Manhattan series; a series where the stories are penned by six different authors and revolves around the Davenport siblings was utterly enchanting. With its main characters that have always felt like they're second best to their sibling in Mateo's case or half-siblings in Miranda's and have back stories that made it hard not to sympathize with them. The way this story started had me immediately excited for this story, as Miranda is a dedicated doctor determined to risk her safety for a patient. Will she be able to help Mateo before something goes horribly wrong because of the area where their patient is?
As for the dialogue, it was well-written and had me hooked due to the main characters back stories and everything they go through on their journey to happy ever after, as Mateo's parents are expecting him to fall in line with their plans and there's no way he'll be able to, not without suffering as badly as his brother did. How could his parents not understand why he's reluctant to adhere to their plans for his future? Will he have to hurt his parents by revealing how much pushing his brother into marriage with the wrong woman sent him into a need to become more and more reckless to make them understand that he will never adhere to their plans?
="You didn't warn your parents ahead of time that it's the woman from your apartment, and that we're …er…engaged?"
"What was the point of having them stew about it in advance and be ready with protests? The military tactic of surprising the enemy is always a good strategy."
"Your parents aren't your enemy, Mateo. Remember that they've had a hard time of it recently, too."
"Believe me, I remind myself of that every day. And, no, not the enemy, but hostile to my chosen way of life? Yes."=
Moreover, the heroine is resilient, courageous and I liked how she opened up to Mateo about her past that's made her feel like she doesn't fit in with her family because her very existence was the scandal of the century for the Davenport family. I also liked how kind, caring and determined she was to prove to Mateo's parents that she's the right woman for him, even though it's palpable there's nothing she can say that will make the hero's mother agree. Yet, what I liked most of all about the heroine was her determination to help Mateo reconnect with his parents and get the hero to see that he needs his parents in his life and vice versa, especially considering they've already lost someone important to them.
While the hero, I couldn't help but sympathize with him when it came to his parents. Since it's as if they're not proud of him or can't comprehend why he doesn't want to conform to what they want for his future just like his brother did? Yet, in saying that, Mateo is strong and brave by facing the past and going up against his parents when it comes to trying to make them understand where he's coming from in terms of not wanting the responsibility they are so desperate for him to take on. Yet, what I liked most of all about the hero is his determination to prove to the heroine that she's everything he wants in a woman and that forever after is possible. Will he win Miranda over? Will his parents come to accept Miranda in their son's life?
="You made me believe in miracles, Miranda, and my miracle is you. You've made me see how I shut myself off from being hurt. By my parents, by the guilt I felt over not being there for my brother, by any woman after seeing how much he was hurt by his wife. You've done that, too. Not believed in yourself enough. What do you say we spend our lives believing in each other? Loving each other? Please say yes."=
Overall, Ms. Gianna has penned a wonderful and engaging read in this book where the chemistry between this couple was intense from the moment they met and just kept getting better; the romance was special and showed how much these two needed each other to heal from their pasts; and the ending had me crying happy tears, because of Mateo's determination to prove to Miranda that they belong together. His words are beautiful and illustrate that miracles are possible. I would recommend The Spanish Duke's Holiday Proposal by Robin Gianna, if you enjoy the fake relationship trope or books by authors Amy Ruttan, Alison Roberts, Susan Carlisle and Amalie Berlin.

Book Info:

Publication: October 17th, 2017 | Harlequin Medical | Christmas in Manhattan #3
Temporary Christmas fiancée—to future duchess!
When paramedic Mateo Alves unexpectedly becomes heir to his family's dukedom, he's asked to return home. But Mateo loves his New York career. So when sparks fly between him and beautiful ER doc Miranda Davenport, he sees a way to appease his family over the holidays…
Miranda can't believe she's agreed to be Mateo's temporary fiancée, but as love child to the head of the wealthy Davenports, she knows all about troubled families. Can a magical Spanish Christmas together bring them both the happiness and belonging they deserve?