The Spanish Tycoon's Takeover by Michelle Douglas: Sometimes a gamble that happens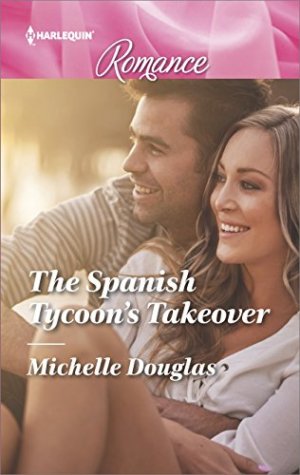 in the past and goes horribly wrong is only going wrong so the future can go oh so right… or wreck even more lives.
Wynne Stephens was determined to be happy. She was proud of her life, of what she was doing and who she was with. Her dreams may have merged a bit when her grandmother got sick, but she was determined. People needed to have a hand. She was going to give everything she got to make sure that things didn't go down the wrong side of the stick.
Xavier Mateo Ramos was hurting. The only person who had really shown him what love was, was gone. Now he had his son, who he loved, and the opportunity to get the revenge he sought and he was going to get that one way or another. He was going to get it from the only person he could, but he wouldn't damage the rest of the people he ran into, would he?
With Xavier seeking revenge and Wynne just trying to do the right thing these two were bound and determined to be intertwined. The problem was would they grow too close?
Ms. Douglas has given her readers a wonderful calm romance. The self-realization that she is able to write with Xavier is something to really be awed at. Her descriptions and depths of writing for the changes is a marvel. The romance is a slow build, but the total change over is something makes even the hardest heart smile. If you need a story about self-actualization pick this one up.
Book Info:

Publication: April 4th 2017 | Harlequin Romance |
The new boss…
Her family hotel has just been taken over and Wynne needs to do whatever it takes to seem bright, breezy and unflappable. Easier said than done! If she can work nicely with the charismatic Xavier Ramos then her colleagues might just keep their jobs…
Xavier has no qualms about ruthlessly transforming a homely motel into a chic boutique hotel–only, he has a fight on his hands against fiery Wynne! While he's busy taking over her hotel, with every battle he finds she's taking another piece of his heart…