In The Spinster's Guide to Scandalous Behavior (Seduction Diaries #2) by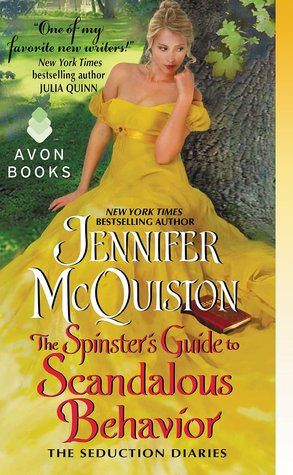 Jennifer McQuiston, Lucy Westmore has always been more of a tomboy than a proper young lady. After delaying her London Season, her mother is now forcing her to make her debut. But when she receives a package from her estranged Aunt E, a spinster who has recently passed away, Lucy may have found her freedom. Inheriting Heathmore Cottage along with her aunt's diaries, she's equipped to begin the life she chooses. Only, Lord Thomas Branston threatens to take it all away with his quest to buy the cottage for himself. Thank goodness Lucy isn't afraid to fight for what she wants.
'It wasn't as though she had any intention of procuring a husband anyway–especially not one who only wanted to give her a ring in exchange for ten thousand pounds. She might be a female, but she wasn't an idiot, and she knew an unfair bargain when she saw one.'
Thomas is sure that buying Heathmore Cottage in Cornwall will keep the secrets the property has been holding onto for years. Miss E asked him to watch over it as well as the town of Lizard Bay they both had grown to love. So when he learned of Miss E's niece inheriting the cottage, he has to make a plan. There is no way a spoiled London miss will do right by it. But Thomas is pleasantly surprised with Lucy's wit and audaciousness. As they traipse across the countryside, he finds himself falling for the bold woman and knows that she could easily find a place in his beloved little town–and his heart .
'She appeared to approach everything in life with unrestrained passion, leaping first and asking questions later. And he couldn't help but admire that sort of spirit.'
The Spinster's Guide to Scandalous Behavior was every bit as fun as the title suggests. Spunky heroine Lucy kept this story moving right along with her impetuous nature and her ability to knock Lord Branston to his knees with their undeniable chemistry.
'She sighed into the experience, heat kindling beneath her skin. His lips were firm but gentle. Warmth spread through her limbs. Oh, but if this was ruin, she welcomed its path.'
I really did have a good time reading this second installment in the Seduction Diaries. It totally stood on its own, thankfully, since I haven't read book one quite yet. I loved that in addition to Lucy's journey we also had the charming and wise diary entries from her recently passed Aunt E. I got such a kick out of how mischievous Miss E, as she was known in Lizard Bay, was in dealing with the local townspeople. Especially the men. That fortitude (or some might say attitude) was definitely an inherited trait when it came to tomboyish Lucy. And I thought that was where all the fun in this book stemmed from.
There was definitely a serious side to this romantic adventure at times, though. Lucy wished for her independence more than anything. She didn't want to be sold off to a member of the ton who was only interested in her dowry and changing her into a carbon copy of the other demure ladies. I could completely empathize with her longing to be free to find a real love match or to at least be herself, even if she became a spinster. Lucy was a bit ahead of her time in terms of women's rights and freedoms, so it was interesting to see how she struggled with Society's views.
Thomas was basically a beta hero. He was a thinking man, a botanist, and was fighting some pretty challenging demons. I wasn't so sure I would like him at first, but he became my favorite part of the story. Well, aside from Miss E's diary entries! We didn't learn all of the secrets Thomas was hiding until the latter part of the book, which kept me digging through the pages to find it all out. I liked that his struggles seemed believable given his tragic childhood and the events he faced over the past three or four years. And it was nice that the community of Lizard Bay was so protective of him, with their attempts to help. I loved watching his role in town and how he assisted them all as well.
An entertaining romp from London to Cornwall, The Spinster's Guide to Scandalous Behavior also taught us about overcoming challenges, falling in love, and how important family truly is. Definitely recommended.
Book Info:

Publication: Expected publication: November 24th 2015 | by Avon | Seduction Diaries #2
In New York Times bestselling author Jennifer McQuiston's enticing new Seduction Diaries entry, a mysterious journal may provide a potential spinster with instruction—or lead her to her heart's desire
Free-spirited Lucy Westmore isn't yet a spinster, although she fully intends to be. Fortunately, an eccentric aunt has left her both a diary detailing the secrets to spinsterhood and a cottage in Cornwall. Unfortunately, an insufferable marquess is angling for her prize! Turning Lord Thomas Branston down flat should be easy. So why does this man who won't take no for an answer make Lucy's body and soul sigh yes?
Thomas knows the real value of Heathmore Cottage, and he has no intention of letting some silly Society miss get her hands on it. He'll simply have to charm Lucy into selling. But the clever young woman he encounters, first in London, then en route to Cornwall, stands stubbornly on her own two (quite lovely) feet. And now, Thomas can think only of sweeping her off them.