The Strawberry Hearts Diner by Carolyn Brown is a super sweet treat that brings together friends, family and an entire community.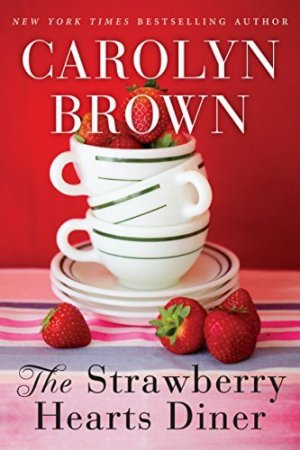 Although the book surrounds the life of Jancy Wilson, now that she is back in Pick, Texas, it is about the friendships that she makes, the love that she finds, and the life that she fits back into.
Jancy has always been the shy quite type, When she lived in Pick, Texas as a child, she did not have friends, she desperately wanted to fit in, but she was too smart for her own good and the boy that she dreamed about and crushed on way back when, she thought did not even notice her. When her family packed up and moved, she figured that she would never see Pick, Texas again. But when she is on her way to visit her cousin after her mother's death, her care literally burns up in the parking lot of The Strawberry Hearts Diner. With no money, no way to get to where she is going, she applies for the job at the diner, a job that will change her life forever.
Everyone in Pick welcomes her back with open arms, Vicky treats her like a second daughter, the girls that always seemed to avoid her, are treating her like one of the gang, and the boy that she crushed on all those years ago, felt the same way back then, and even more now. At first, all Jancy can think about is getting enough money together to leave, but the longer that she stays in Pick, the more that she never wants to leave ever again.
I loved the characters in this book. They were loving, they were caring, they had spit and vinegar to spare, and above all else, they looked after their own, took care of the people that needed taking care of. When the chips were down, this town pulled together to show the world that Pick, Texas was a place that would not be taken advantage of. There are really 3 separate HEA in this book, and each one is just as sweet as the amazing Strawberry Tarts that the diner sells. So pull up a chair, have a glass of sweet tea and a strawberry tart and get ready to become a part of the family.

Book Info:

Publication: Published July 18th 2017 | Montlake Romance |
Being broke, unemployed, and stranded back in the tiny town of Pick, Texas, was not part of Jancy Wilson's plan. Yet here she is, watching her car literally go up in smoke—along with her last-ditch hope of staying with her cousin in Louisiana. When Jancy spies a Help Wanted sign hanging in the window of the quaint Strawberry Hearts Diner, the memories of the two years she spent there as a teenager—and the lure of the diner's beloved strawberry tarts—are enough to draw her in and plant her feet…but only temporarily.
Raised by parents who refused to settle anywhere for long, Jancy has never known what it is to have roots. Now that Jancy's swept up by the warmth and character of this quirky little community—and by the pull of an old crush—it's beginning to feel like home. She's making friends and even discovering the sweetness of falling in love. But when the town is threatened, Jancy knows it will take more than its legendary tarts to save it. Can she fight for this little Texas town—knowing she might not stay forever?