The Sultan Demands His Heir by Maya Blake : The Sultan Demands his Heir by Maya Blake is a sensual enemies to lovers romance,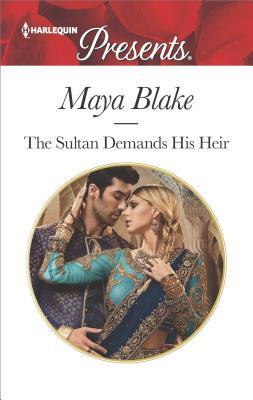 set in the fictional desert kingdom of Ja'ahr.
Esmerelda Scott is dismayed to find out that her conman father has landed himself in a heap of trouble in the desert, with a prison term all but decided. Esme can't stop herself from going to his aid despite their long estrangement, in particular when she learns that he's suffered an injury in jail. What she doesn't expect is to find that the prosecutor of the case, Zaid Al-Ameen, is also the Sultan of the country. Zaid is determined to show his citizens that he's serious about stamping out corruption as he works to modernize the country. When Esme shows up to defend her father to the press, it puts her in danger with the police chief, and Zaid ends up bringing her to the palace to keep her safe.
Being in close proximity is a blessing and a curse for Zaid and Esme, who find the slow burning attraction between them won't be denied. But Esme has secrets that she worries will ruin what they are building together. Zaid wants Esme to share his life, and the ruling of his country with him – but will the revelations from her past change his mind?
The setting of the fictional kingdom of Ja'ahr is well described, including the dichotomy between the wealthy and the poor. Zaid, whose parents were assassinated when he was young by a greedy uncle has only recently become ruler, and is doing his best to improve things for the less fortunate. Esme is a social worker and he has her help him in his quest to reform the country, as part of a bargain to get her father out of the jail system and under house arrest while his trial is being held. I liked how concerned Zaid was about his people and the injustices he is trying to right. Of course, as ruler, he still comes across as an arrogant and demanding man, but one who cares.
The passion between Zaid and Esme results in some sensual love scenes later in the story. Their relationship progresses quickly after that, but the conflict in Esme's past (something she believes will turn Zaid against her) comes up quite late and as a result the ending felt a bit rushed. Still they work things out and get their happy ever after, with a sweet epilogue.

Book Info:

Publication: Oct 17, 2017 | Harlequin Presents |
She will become his bride! Newly crowned sultan Zaid Al-Ameen is determined to rid his country of corruption. Unfortunately for Esme Scott, that means arresting her conman father–leaving her with little choice but to strike a deal with his captor. Zaid sees a golden opportunity in social worker Esme: his country needs reform, and it's her area of expertise. But working together sparks an insatiable longing–and after a heated encounter, they realize she's pregnant! Zaid's sensual power over Esme leaves her helpless to resist his demands. She never imagined she'd become wife to a sultan–until Zaid's expert touch persuades her otherwise…