In The Summer That Made Us by Robyn Carr, Families may often have secrets and the occasional resentful relationship but the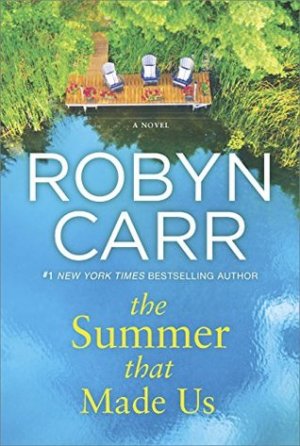 Hempstead family has taken it to the extreme. Once a close knit bunch, a tragedy on Lake Waseka, Minnesota, twenty-seven years ago fractured the bonds of two sisters and their daughters, leaving them in shambles. They each went their own separate way having little to no contact with each other over the following years and let hard feelings grow and fester. But with one of the daughters, Megan, facing her own mortality, she's determined to get to the bottom of their problems and have a peaceful summer at the lake together as a family.
"It's hard, you know? Being estranged like this all these years, feeling like we have no family, feeling alone… But it's nice to have one more chance, to get people together, to see what kind of family survived all the sadness."
It won't be easy, though. Megan's sister Charley is now jobless and not sure of her relationship with her long-term boyfriend Michael. The last thing she wants is to face her mother Louise who doesn't give a damn about anyone but herself. But if it will help Megan, she'll force herself to make nice with their mom for the summer. Their cousin Krista is in the midst of a huge change in her own life and hopes the lakehouse will be a refuge, allowing her to start over again. She relishes her renewed close bond with her mom Jo and getting to spend time with her cousins. It's when the family secrets start coming out that each woman will have to face down their own problems and learn how to come together as a cohesive unit again for the first time in over twenty-five years.
"We got through it, somehow. And here we are, a family of women, picking up the pieces the best we can."
The Summer That Made Us was a touching work of women's fiction by one of my go-to authors, Robyn Carr. This journey she took us on followed a family surrounded by secrets and hard feelings finally getting the chance to turn over a new leaf and settle past issues.
Robyn Carr is an author who never fails to take me on an emotional adventure, with the tough but real life situations she puts her characters in, the heartfelt moments between the cast members, and her wonderful subtle humor woven in at just the right time. And the way this was written I felt like Robyn was sitting there as a storyteller reading this to me, narrating the whole book. It was admittedly kind of a "tell" rather than "show" story but it worked for me. There was still emotional depth and definite character growth. And I loved that it wasn't just the cousins who grew and changed but also their mothers and some other secondary cast as well which was great.
I tend to always root for the underdog in any story so Krista and Megan were the characters I latched onto first. Without giving away too much of their journey, Krista, a woman who was almost child-like when it came to relationships and the world around her, was finally free to live her life after twenty-five years away in California, fix her relationship with her mother and stand on her own two feet. Megan–who I adored–was at the end of dealing with a severe medical crisis and felt like the lake would be a good place to heal. It was also her wish for the family to make amends and enjoy at least one summer back on Lake Waseka. Charley, Megan's sister, was a prominent character in the story and was at odds with her mom. The loss of her job and the crossroads with her longtime boyfriend pushed her to go to her sister's aid. In some ways it felt like Charley was running away from her life in California but it ended up giving her time to sort through it all and to be there for her family when they all needed her.
There definitely was a lot of bad feelings and bitterness to get through between all the cousins, parents and sisters. And with so many characters to get to know it did take me a bit to get into the story and figure out how everyone was related and what the issues were that they faced. But once it all came together, I was invested in the family and couldn't wait to see how it all worked out.
With a bittersweet ending and an estranged family desperately in need of healing, The Summer That Made Us was a poignant novel that ran the full gamut of emotions, moving me to tears more than once. Definitely recommended for chick lit fans.

Book Info:

Publication: Published September 5th 2017 | MIRA |
Mothers and daughters, sisters and cousins, they lived for summers at the lake house until a tragic accident changed everything. The Summer That Made Us is an unforgettable story about a family learning to accept the past, to forgive and to love each other again.
That was then…
For the Hempsteads, summers were idyllic. Two sisters who married two brothers and had three daughters each, the women would escape the city the moment school was out to gather at the family house on Lake Waseka. The lake was a magical place, a haven where they were happy and carefree. All of their problems drifted away as the days passed in sun-dappled contentment. Until the summer that changed everything.
This is now…
After an accidental drowning turned the lake house into a site of tragedy and grief, it was closed up. For good. Torn apart, none of the Hempstead women speak of what happened that summer, and relationships between them are uneasy at best, hurtful at worst. But in the face of new challenges, one woman is determined to draw her family together again, and the only way that can happen is to return to the lake and face the truth.
Robyn Carr has crafted a beautifully woven story about the complexities of family dynamics and the value of strong female relationships.