The Surgeon's Baby Surprise by Charlotte Hawkes: Two doctor's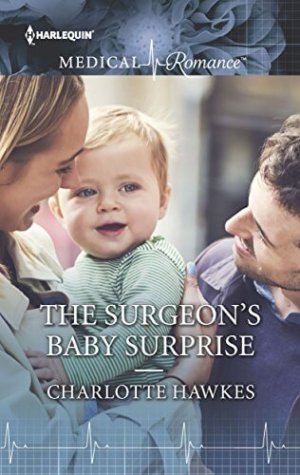 both with life altering experiences coming in the next days. What will they decide? Or will they decide to not think but just feel for those next days?
Evie Parker knew her life was going to turn upside down. The problem was she wasn't sure how it was all going to play out. As a person she wanted guarantees and promises, as a doctor, she knew there were none. Then the man she had been fantasying about started to talk to her like a woman. Her whole world was flipping upside down quickly.
Maximilian, Max, Van Berg had always been the ultimate professional. Now as he was gearing up to do a tour far away from home. Could he break free even for a little while? He shouldn't mix business with pleasure but surely a few days wouldn't hurt, right?
Now their worlds were falling apart. Max was back. Evie was having transplant surgery. Then there was a little one to think about. When secrets keep popping out would their future even have a shot?
This was an interesting story. The romance that shone throughout the story was well-written, well thought out and one of greatness. The characters were some of the most thought out that I've come across lately. This is definitely one to pick up for an amazing story.
Book Info:

Publication: December 20th 2016 | Harlequin Medical |
Discovering his secret child!
For committed surgeon Max Van Berg, career has always come first. He's only ever risked distraction onceduring his whirlwind affair with stunning psychiatrist Evangeline Parker
But now Evie's unexpected reappearance has turned Max's world upside down. Not only is Evie battling illness, but she's been forced to keep an even bigger secret from the surgeon! Against all odds Max is a father, and suddenly his sole focus is fighting for Evie, for baby Imogen and for the family he never knew he wanted until now