In The Surrogate's Unexpected Miracle by Alison Roberts , Nurse Ellie Thomas would do anything for her longtime best friend Ava.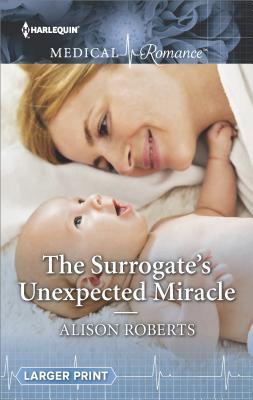 Which is why she agreed to be a surrogate for her friend, not knowing that she would soon face single motherhood when Ava suddenly abandons her. Even though it drastically changes her life, Ellie can't be mad when she sees her stunning baby boy for the first time. Jamie is everything she never knew she wanted. But when tragedy strikes, she and her son are forced to look for help, which brings her to the attention of Dr. Luke Gilmore, the doctor who delivered Jamie. Ellie's already emotionally-crazy life gets even more complicated when she begins to fall for Luke. But knowing about his childhood and his longing to move away from New Zealand and put the past behind him, should Ellie admit her feelings or see if Luke realizes on his own how great they would be together as a family?
'For a few precious days that Ellie would treasure for the rest of her life, she was inside the perfect bubble.
Living in the most gorgeous place on earth.
The mother of the most beautiful child that had ever been born.
Sharing the bed of the man she now knew to be her soul mate.'
Dr. Luke Gilmore has changed a lot since the last time he stayed in his family's home. His harsh beginnings and troubled past have pushed him to excel and become the kind of man his parents would be proud of. But he knows settling down with a family of his own is not in the cards for him. Then Luke saves a woman's life and that of her newborn child. And life as he knows it is forever changed. Ellie and little Jamie get under his skin like no one else and he finds himself worrying over their safety at odd times. So when he has the chance to help her out of a bind, he's happy to come to her rescue. But Luke didn't realize that with every moment he spends with Ellie and Jamie, he's only going to fall deeper and deeper into love with them, suddenly envisioning a day when they could become his own little family.
'She hadn't been planning to raise a child on her own but was facing what could be a difficult future with such determination–and such obvious love for the baby she had now claimed as purely her own.
He had to admire that.
To admire Ellie.'
The Surrogate's Unexpected Miracle was a touching, truly heartfelt medical romance that was an emotional roller coaster ride. And I was enthralled watching this couple deal with every high and low as they fell in love.
Well, Alison Roberts definitely isn't afraid to put her characters through their paces, that's for sure. Our heroine, Ellie, had some seriously bad, BAD luck. But she had a lot of gumption, thankfully, as well as hunky Luke to take a little bit of the stress off her shoulders. I loved Ellie's tenacity and her strength. She might have pushed Luke away a bit when he was trying to help, not wanting to get too attached or to feel indebted to him, but she always meant well. Ellie was in a tough bind and I think it was her wish to make a wonderful future for her new baby boy that pushed her along and kept her chin up. I'm not sure many people would have Ellie's wherewithal, especially after being betrayed by someone so close to her. But I admired her for it.
And Luke. *sigh* In my eyes he was a tortured hero who had a very troubled past but who became an honorable, kind man. He was a bit of a bad boy still in some ways but he'd become a doctor and redeemed himself for the most part. His backstory is enough to shatter your heart. Luke overcame a lot and I was glad to see him giving back (and getting so much in return) by welcoming Ellie and her son Jamie into his life. I have to say that I adored them together. Such a perfect pair in terms of personality and even careers, both working in the nearby hospital. They even had ties to the local community from back into their childhood which was a little bittersweet. But Ellie and Luke made a great team and a solid couple.
With several surprise twists and lots of challenges to overcome, The Surrogate's Unexpected Miracle was a nice story to lose myself in for a couple of hours. This would be a great addition to any romance fan's summer reading list.

Book Info:

Publication: June 20th 2017 | Harlequin Medical Romances |
Their unexpected family
Ellie Thomas was meant to be a surrogate mum to the baby growing inside her, but when her best friend abandons her, everything changes. The moment her son is born Ellie knows she could never give him up! But the one person she can turn to for help is the doctor who delivered her child.
Dr Luke Gilmore didn't have a picture perfect childhood, but he instinctively wants to protect Ellie and her baby. He was only passing through, but he may have just found a reason to stay…