In The Sweetest Burn (Broken Destiny #2) by Jeaniene Frost, Being hauled into the middle of a centuries old war was not on Ivy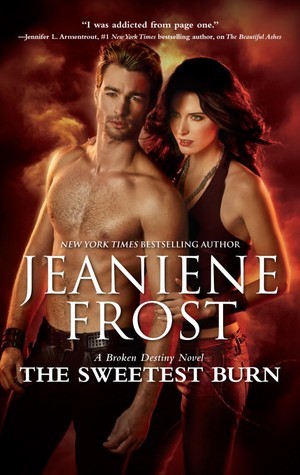 Jenkins agenda. But after finding out she's the last true descendant of David (yes, *that* David, from the bible) she is tasked to find hallowed weapons to stop demons from killing humans as they enter this realm. To make matters even more complicated, Ivy is destined to be betrayed by the last descendant of Judas. And that just happens to be a sexy, very hard to resist man named Adrian. A man who recently broke her heart and basically discarded her. Just as he shows up in her life yet again, though, Ivy's search for the next relic, Moses's staff, gets real, with minions and demons out to kill her.
'We were orphaned dropouts who were sneaking onto campus with a gargoyle disguised as a seagull, a former demon-realm captive and the last descendant of Judas. No wonder there were moments when part of me thought that this was just one long, extremely strange dream.'
Along for the fight is Ivy's sister Jasmine, their friend Costa, and Brutus, her gargoyle. The motley bunch ends up traversing the world, as well as a few other realms, as they follow the clues to the staff's whereabouts. But when it appears someone within the group is betraying confidences, allowing demons to get too close for comfort, Ivy and Adrian will have to figure out who it could be. The answer may be enough to shake the friendships within the group and possibly split the fragile beginning of a renewed relationship between Adrian and Ivy. But with the fate of the world at stake, they'll all still have to band together to defeat the demons for good.
"I didn't want to know you, like you, need you, or most of all, love you, but I did. I still do. You are my destiny, Ivy, just not how everyone predicted."
A battle between good and evil of epic proportions, The Sweetest Burn was filled with exciting action, sweet romance, quirky characters, and even a running biblical theme that didn't overshadow the story.
'Sometimes, the only choice life gave you was how you handled the things you *didn't* choose.'
I'm new to this series (although I do have book one, The Beautiful Ashes, on my TBR and will definitely be going back to read it!) and this worked well for me as a standalone. I think you would probably have a better understanding of the complete story if you've previously read book one, but Frost did a great job explaining the background here. Being a fan of her work already, I was drawn in to the story and to the characters themselves very quickly. Ivy was a likable heroine who was flawed, intelligent, quite grown up for her age, and she had a pretty good moral compass. She was getting more used to her role as the last Davidian and her abilities as such. Ivy's personal relationships added a whole huge layer of chaos to her already messy life and I honestly really liked watching her learn and grow from every situation she made it through.
Adrian started off as an anti-hero in my eyes but he became a solid, true hero by the end and one of my favorite characters. Well, aside from Ivy's protector/pet Brutus, a gargoyle come to life, who was such fun. We don't get to see much of the story from Adrian's POV until the very end but it was rather poignant when we did. I loved him and Ivy together and thought they were a cute couple–with their easy bantering–who genuinely understood a lot of the tough choices they each were facing. Other cast members added drama, too, including Zach the Archon (angel), Ivy's sister Jasmine, and their friend Costa. It was a good mix of personalities and they all had their part in the way things went down while Ivy was searching for the hallowed weapon, Moses's staff.
Book two in the Broken Destiny trilogy was definitely enough to capture my attention and have me burning through the pages on my kindle. I think fans of paranormal romance and urban fantasy will fall for this hero and heroine combo as well as their fight to save humanity.

Book Info:

Publication: Published June 27th 2017 | HQN Books | Broken Destiny #2
The breathtaking second novel in New York Times bestselling author Jeaniene Frost's Broken Destiny series finds Ivy and Adrian rekindling their alliance—and passion—as the struggle for the fate of the world begins…
Conquering a supernatural realm turned out to be easier than getting over a broken heart. But her initial victory has made Ivy a target for revenge, forcing her to reunite with the dangerous—and dangerously sexy—Adrian. Ivy isn't sure which will be harder: finding the hallowed weapon that will repair the crumbling walls between the demon and human realms, or resisting Adrian, who's decided that come hell or high water, he will make Ivy his.
At first, Adrian tried to resist his feelings for Ivy. Now, determined to break the curse that dooms their love, he's vowed to save her and to have her. If only he can persuade her to forgive his past sins. But defying destiny—and surrendering to the smoldering desire between them—will bring consequences and sacrifices they never imagined…