In The Sweetest Chase  (Heart of the Storm #2) by Sharla Lovelace, You would think Quinn Parker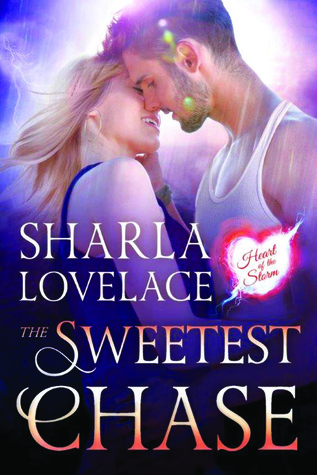 would be on cloud nine with her upcoming wedding to Eric St. James. But with her mother having hijacked the planning, and her secret crush on her best friend Simon Chase, she's a bit overwhelmed and confused. As photographer for the Chase's reality show, Quinn gets an adrenaline rush from chasing storms and gets to be close to Simon. However, when she finds out he's been hiding his true feelings for her, everything changes.
'She was stupidly, hopelessly in love with her best friend. And marrying someone else in two weeks.'
Simon wasn't so sure an online reality show about his family would work but he's okay with it if it means they get to keep chasing storms. Being a meteorologist he's used to the spotlight. Although trying to keep his emotions in check on camera whenever he's around Quinn is difficult. Simon has resigned himself to never being able to pursue his attraction to her now that she's getting married. But when a few stolen moments proves that their feelings are mutual, it will be all he can do to remain honorable and step aside.
'He faced down monster tornadoes and flying trees. He'd had an EF4 pick him up and drag him down the road like he was a toothpick. And what he was feeling for Quinn was infinitely scarier. Because she wasn't his to feel it for. She belonged to another man.'
Heart pounding storm chasing, secret crushes, and a wedding taken over by the mother of the bride made The Sweetest Chase a page-turner of a romance novel.
Minor Spoiler Alert: I'll say right off the bat that Quinn and Simon's story may make some readers uncomfortable. They did share a couple of hot & steamy stolen kisses even though she was engaged, with her wedding less than a month away. I know. It made me squeamish at first, too.
I am definitely NOT condoning cheating in any form or fashion. However, with the way Sharla Lovelace has built up the friendship first–and the unrequited love second–between Simon and Quinn in book one and now in their own book, I found myself cheering them on to a certain extent. My hope was that it would be with Quinn confessing to her fiance Eric and making a clean break before getting more serious with Simon. And I'll let you read how it all actually happened on your own so as not to ruin the storyline.
Simon was my absolute favorite character of the bunch. I loved the meteorologist aspect (smart AND sexy!) and how grounded he was, giving his time to a local charity that meant the world to him. He really did try to be honorable in his feelings for Quinn, staying quiet when she got engaged. But working together meant they were always thrown together in crazy, intense situations. Plus she was best friends with his sister which basically made her a part of his family.
Quinn on the other hand, I thought should have probably talked with Simon first or at least thought things through before agreeing to marry someone she didn't feel as strongly for as she did Simon. I liked her. Don't get me wrong. But she had a habit of caving and letting others make decisions, or at least going with status quo. I would have liked to have seen her be as strong in voicing her opinions to her mother and fiance as she did when it came to her career and storm chasing.
Overall, I had a great time reading The Sweetest Chase. Between Lovelace's heartfelt writing and the insanely exciting storm scenes, I really enjoyed this story and look forward to what's next in the series.
Book Info:

Publication: Published February 23rd 2016 | Montlake Romance | Heart of the Storm #2
Photographer Quinn Parker is getting married in a month, and she's almost happy about it. Even though her mother is planning the whole wedding. Even though she's secretly had the hots for Simon Chase forever. But he's her best friend's brother and her coworker…off-limits even if she were single. So she's marrying the man who should be her perfect match—and that's that.
Simon Chase's life revolves around his family's storm-chasing business. The meteorologist of the bunch, he'd rather be out in the weather than reporting it—especially if Quinn Parker is along to photograph the run. He's been hiding his crush on her for a long time, and it's only intensified. But she's marrying someone else—and that's that.
Or is it? When a Chase family wedding sets the stage for body temperatures to rise and the pressure of Quinn's impending wedding to build, a new reality breaks. Quinn and Simon discover their unrequited affections have been mutual all along. When the gathering storm of their attraction finally reaches its peak, will it leave their lives in shambles? Or will they find shelter in each other?