The Test by Tawna Fenske: Ever since Lisa's fiancé ditched her at the altar a few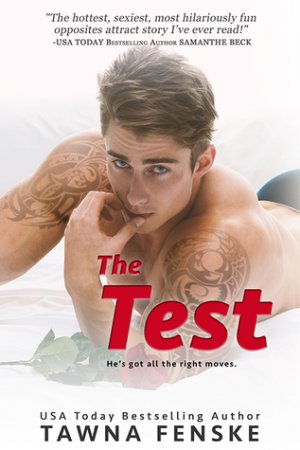 months ago, she's been questioning every life decision. An absolute perfectionist who's always played it safe, Lisa's ready to branch out and try something new, and perhaps a little less pretentious.
In comes Dax, the exact opposite of Lisa's usual type, and far better than any of her other choices. Although they seem like exact opposites their connection grows, and even though they only planned this fling for a month as Dax helps Lisa loosen up, neither wants to give it up.
But they may be trying to cross a divide too large, especially when insecurities flare up and lifestyles are questioned and assumed.
I really enjoyed THE TEST. It was hot and sexy, and super sweet. For such a badass, Dax was also extremely lovable, and Lisa was a perfect counterpart. Although I tend not to like the fussy, uptight heroine, Lisa was sweeter than anything else; and seeing her loosen up and grab a hold of life with Dax was wonderful.
My biggest issue came at the end when some discoveries came about. While I liked the surprise aspect, it was also very out of the blue, and I wish the author had put a few red herrings out for the reader to note beforehand. Otherwise, though, while it was tough seeing this couple navigate their socioeconomic differences – and sometimes it felt a bit overdone and clichéd – I appreciated the reality of it, and the love that overcame it.
For those who love their opposites attract, I highly recommend THE TEST. It's fun, sexy, and I didn't want to put it down. The second in a series, it can be read as a standalone – but I know I definitely want to read the first now!
Book Info:

Publication: February 19, 2018 | Entangled Scorched | The List #2
This is a test. A test of every life decision Lisa Michaels has ever made.
Lisa thought she'd gotten everything right: The nicest condo, the right career, the best hair, and a perfectly adequate sex life with her stockbroker fiancé. But when the fiancé ditches her at the altar, Lisa's left questioning every decision she's ever made. What if her instincts have been steering her wrong all along? And what if she tested that theory by spending one month doing the exact opposite of what she'd normally do?
A crazy-hot fling with a tattooed steelworker from the wrong side of the tracks seems like a good starting point…