The Thing About Love by Julie James: John loves being an FBI agent, especially in his hometown of Chicago. Going to the FBI after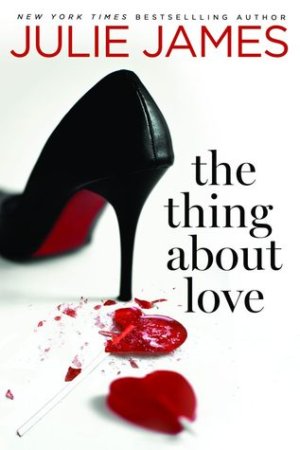 being in the military seemed like a natural fit. But he is now ready to try out for the FBI's elite Hostage Rescue Team. He's looking for a change and the idea of pushing himself physically sounds just about what the doctor ordered at this point. He is incredibly fit, smart, sexy, loyal, and protective.
Jessica can't wait to start over in Chicago. She has certainly made a name for herself as a female agent, but returning to her hometown seemed ideal after her marriage fell apart. She may be short for an agent, but she more than makes up for that with her intelligence, charm, stubbornness, determination, and law degree.
Jessica is thrilled to get a new case, but she's hesitant about working with her new partner on this one. Jessica and John were in the same academy class and they didn't exactly get off on the right foot. Their competitive natures came out in full force and they pushed each other to be better in an effort to best the other. It's not surprising that they remember those days pretty differently.
"I only said you sucked that one time," he grumbled. "And of course those are the parts you remember."
She threw up her hands in exasperation. "What other parts should I remember? If you weren't the problem six years ago, then how do you explain all our disagreements?"
He gave her a long, pointed look.
They put on a good show and maintain their professionalism in front of their boss and other colleagues, but they continue to butt heads and push each other's buttons as they work their undercover assignment. Being forced to work together does give them opportunities to address the past, get to know each other, and maybe explore the attraction that always simmered between them when they aren't arguing.
He glared at her.
Okay, apparently somebody wasn't in the mood for jokes right then. "It's your own fault. If you'd just tell me why you hesitated, then I wouldn't have to resort to tricks."
"Christ, I forgot how you're like a dog with a bone when you've latched on to something," he muttered.
The Thing About Love is funny, sexy, and will keep you turning the pages until the very end. Julie James created a memorable couple who will entertain with their banter. Ms. James created great characters that you would like to actually meet. Fans of Jill Shalvis, Rachel Gibson, and Susan Elizabeth Phillips will enjoy The Thing About Love.

Book Info:

Publication: April 18th 2017 | Berkley |
Two undercover FBI agents can hide who they are from everyone but each other in the latest novel from the New York Times bestselling author of Suddenly One Summer.
FBI agents Jessica Harlow and John Shepherd have a past. The former lawyer and cocky Army ranger clashed during their training at Quantico, gladly going their separate ways after graduating from the Academy. Six years later, the last thing either of them expects is to run into each other again–assigned to work as partners in a high-profile undercover sting.
For both of them, being paired with a former rival couldn't come at a worse time. Recently divorced from a Hollywood producer and looking for a fresh start, Jessica is eager to prove herself at her new field office. And John is just one case away from his dream assignment to the FBI's elite Hostage Rescue Team. In order to nail a corrupt Florida politician, they'll have to find a way to work as a team–a task that becomes even trickier when they're forced to hole up at a romantic, beachfront resort as part of the investigation. Suddenly, the heat behind their nonstop sparring threatens to make the job a whole lot more complicated. . .