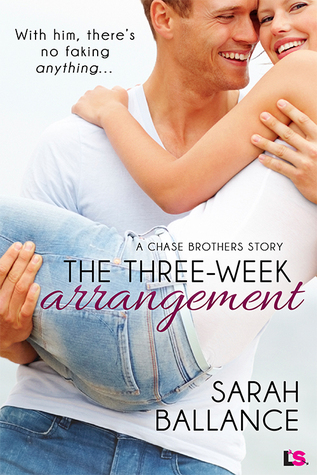 The Three Week Arrangement by Sarah Ballance: Widowed three years earlier, Ethan doesn't expect to, or want to, find love again. But when he runs into Rue, love might just find him.
In three weeks, Rue's off to travel the world for her nature photography work, so a good end for a fake relationship for both Rue and Ethan. Ethan wants to stop his family from worrying about his loneliness and Rue needs a date for a charity gala to get a creeper off her back.
She cracked a small smile. It was contagious, leaving him off guard. Off kilter. Dizzy. She dizzied him.
But fake dating means actually spending time together. And spending time together might just cause these two, who never expected to find love, find it with each other as they expand their horizons and learn how to open up.
The Three Week Arrangement is a lovely romance, perhaps centered a bit more on Ethan working past his grief and finding new love than Rue and Ethan's romance – although their romance is by no means small or inadequate. Widow(er) novels aren't generally my favorite, either, because we deal with the past love, but I loved Ethan, and his "Caveman Ethan" aspect especially. His strength and growth made it worth it.
"So if she was okay with it then, why feel guilty about having one now?"
"Because," he said without hesitation, "none of them looked like you."
Rue, while enjoyable and fascinating – and very necessary to Ethan in getting past his grief – doesn't really fit as forever. She doesn't sacrifice a thing while Ethan is pushed through the real struggle, and in the end it felt like an uneven relationship.
That said, the story was both beautiful and hot, and I highly enjoyed the journey it brought me through. With depth and real development, I definitely recommend Balance's The Three Week Arrangement – and I know I'm going to check out the earlier two in the series now!
Book Info:

 April 4, 2016 | Entangled Publishing | Chase Brothers #3
Ethan Chase isn't interested in dating. After losing the woman he loved more than life itself, he'd much rather ride solo, but his family is dead set on fixing him up. To get them off his back, he hooks up with ultra-adventurous, ultra-temporary adventure photographer, Rue Campbell. All he has to do is survive three weeks in her orbit and he'll be single again, only without the pitying looks and pressure to move on.
Rue is literally counting the days until her plane leaves New York City. The last thing she wants is a relationship, but being Ethan's pretend girlfriend can't hurt, right? Wrong. With Ethan, there's no faking anything—in or out of the bedroom. With the sheets burning hot and the clock ticking on their arrangement, Rue realizes she's falling for a man guaranteed to derail her goals…and break her heart.