The Throne He Must Take by Chantelle Shaw is the second story in her Saunderson Legacy series, about two orphaned children, Jarek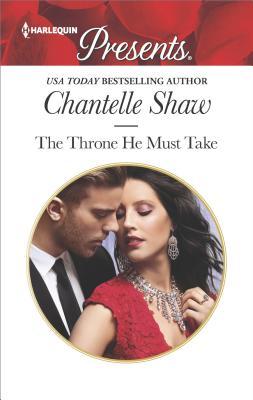 and Elin, who are adopted by the wealthy English Saunderson family from a Bosnian orphanage after the inter-ethnic war devastated the former Yugoslavia. Elin found herself married and in love in The Secret He Must Claim. Two years later, it's Jarek's turn to get his happy ending but not without some surprising twists and turns that establish a new chapter in Jarek and Elin's childhood history.
At Elin's insistence, Jarek, who lost his job as head of Saundersons business holdings due to some risky financial dealings is seeking some professional help to deal with a multitude of issues in his personal life. The exclusive Austrian center high in the Alps is designed for luxury and comfort while healing all ills, and Jarek is assigned a personal psychotherapist, Dr. Holly Maitland, to be at his beck and call. She's on a short term assignment with the clinic, but hopes that success with Jarek will give her the chance at a full time job.
Jarek and Holly clash upon first meeting, mostly because he is there reluctantly while she is serious about helping him sort through his issues. Jarek is a natural playboy and flirts with Holly, causing her some discomfort as she feels an equal attraction to him but knows she must keep things professional. Plus she has a gynecological condition that means sex can't be a spontaneous affair for her. Still, as they spend time together Jarek finds himself revealing things to her, including the disturbing nightmares that are getting more and more frequent.
Jarek can't remember anything of his childhood before his time at the orphanage where as a six year old, he protected his infant sister from the effects of war. When it comes to light that the ruling family in Vostov, a neighboring principality to Croatia, may not have all died in an assassination attempt years earlier, things start to come into focus. Jarek's guilt over several things in his past makes him wary to open up completely to Holly, even as he tempts her into a sexual relationship. Can they find their way to revealing the secrets that will let Jarek's heart be open to a happy ever after with Holly?
I really enjoyed this story! The settings are varied, with Jarek and Holly meeting in the beautiful mountain vistas of Austria, some scenes in Jarek's family home and in England, and some set on Jarek's tropical private island in the Indian Ocean. I loved this variety, and each place is significant for Jarek as he works through his guilt over his adopted mother's death, and eventually certain events in his long forgotten childhood.
While the kernel of the story is the forbidden love affair between Jarek and Holly as psychiatrist and patient, by the time they are more fully involved their professional relationship has been ended in favor of a more personal one. Initial attraction turns to sensual love scenes as Holly and Jarek can't resist each other. While Holly's condition initially prevents her from taking things further because she doesn't know how he will react to her news, Jarek passes the test with flying colors and is clearly less shallow than he appears on the surface. There are some surprisingly action packed scenes as daredevil Jarek, used to taking risks, must come to terms with the effect they have on those around him. Some of Jarek's decisions are hurtful but they stem from his own issues with self-worth, and over the course of the story he becomes much more in tune to his feelings and Holly's too. The mystery of what really happened in Vostov is resolved by the end of the story. This is an exciting and passionate romance with twists and turns that will keep you engaged from start to finish!

Book Info:

Publication: Aug 22, 2017 | Harlequin Presents | The Saunderson Legacy #2
A missing prince… Playboy Jarek is no stranger to the darkness within him. Psychotherapist Dr. Holly Maitland is his chance to unlock the secrets from his past. But alone with Holly in the Austrian Alps, all Jarek can think about is peeling away her cool demeanor one tantalizing layer at a time!
.A forbidden attraction …Holly can see straight through Jarek's tactics of distraction. But the lure of his caress opens her body to sensual delights she once believed impossible. If what Holly suspects is true and Jarek is the missing prince of Vostov, dare she hope he will claim her as well as his rightful throne?