The Trouble with Dukes by Grace Burrowes: I love a Duke who is not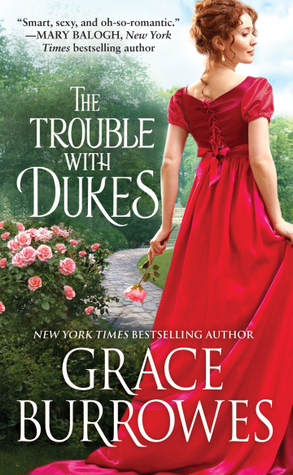 interested in being a Duke and Hamish MacHugh is really NOT interested in being the Duke of Murdoch in Grace Burrowes's The Trouble with Dukes.
Hamish is a Scot, a soldier and has no idea how to navigate London society and be a Duke. London has even started calling him the Duke of Murder due to his reputation of being a ruthless killer on the battlefield. He'd forget London and the Dukedom and return home to Scotland if he could, but he cannot deny his two younger sisters time to enjoy the city and their newfound titled status. Hopefully, he won't embarrass them with his rustic ways and lack of knowledge of how to behave in a dukely fashion.
He meets the enigmatic Megan Windham who befriends the entire MacHugh family and helps ease their way into the Ton. She's a part of the large Windham clan and knows how to navigate the society, and Hamish intrigues her. She offers to help him learn to become a Duke. She's also attracted to him and being seen with him will also assist her in thwarting an unwanted suitor's machinations to blackmail her into marrying him.
Both Megan and Hamish are delightful and likable characters. I loved watching their steady courtship, and Hamish really stepped up to assist Megan deal with the unsavory chap trying to make her his wife. Hamish was so sweet to her but still a strong alpha hero; he really is the true definition of a romance hero. He and Megan fell in love at a realistic pace, but the story never lagged or was boring. My only quibble with the book is Hamish called Megan by the nickname "Miss Meggie" a lot, and it is so cutesy that it got on my nerves. It was also a very Hamish-like thing do to, so it was believable that he would use it frequently like an endearment.
Quite a few of the Wyndham series characters make appearances in the story and that can be confusing to the reader if you have not read all the books in the series or cannot remember who is who if you have. Fortunately, Ms. Burrowes includes a family tree at the beginning of the book; therefore, you can familiarize yourself with the characters if you need to. The Trouble with Dukes can best be described as simply a very lovely story that readers will truly enjoy.

Book Info:

Publication: 12/20/16 | Forever | Windham Brides #1, Windham #9
THEY CALL HIM THE DUKE OF MURDER…
The gossips whisper that the new Duke of Murdoch is a brute, a murderer, and even worse—a Scot. They say he should never be trusted alone with a woman. But Megan Windham sees in Hamish something different, someone different.
No one was fiercer at war than Hamish MacHugh, though now the soldier faces a whole new battlefield: a London Season. To make his sisters happy, he'll take on any challenge—even letting their friend Miss Windham teach him to waltz. Megan isn't the least bit intimidated by his dark reputation, but Hamish senses that she's fighting battles of her own. For her, he'll become the warrior once more, and for her, he might just lose his heart.