In The Trouble with Twelfth Grave (Charley Davidson #12) by Darynda Jones, There was a time when Charley Davidson didn't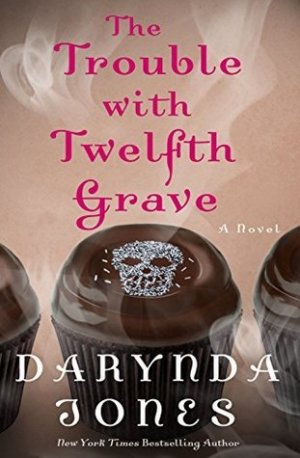 trust Reyes Farrow–but that was before she knew she was the grim reaper and certainly well before she fell in love with him. He might be part god and part son of Satan, but he's been the one constant in her ever-changing kooky existence. And then somehow one of Charley's plans backfires, getting (her now husband) Reyes trapped in a hell dimension. When at last he finally breaks free, he's nothing like the sexy, brooding, protective, did I mention sexy?, man she's given herself to heart and soul. In his place is a dark god who scares everyone around him, human and supernatural alike.
'I'd essentially lost my husband, his body taken over by a deity I knew nothing about. Was he volatile? That much seemed a given, but was he cruel? Was he malevolent? Only time would tell, but time was not something we had a lot of.'
On top of solving the mystery as to what her angry husband is searching for on the human plane, Charley, Cookie, and the rest of their motley crew are also drawn into a series of murders in the local area with possible supernatural ties. She can only hope that Reyes hasn't turned completely evil or that he's part of the crimes, but it doesn't look good. Charley is determined to figure out who the culprit truly is and to keep her loved ones safe at the same time. But it won't be easy to stay one step ahead of things while running on no sleep and copious amounts of caffeine–nectar of the gods, folks–all while wondering if she'll ever get to feel her husband's strong arms holding her once again.
(Chapter title) 'It just occurred to me that you could substitute Miranda rights for wedding vows. Verbatim.' –True Fact
Mind-blowing events. Hysterical snark. Unbelievable revelations. The Trouble with Twelfth Grave was a thrilling new installment in the Charley Davidson series that yet again changed everything and proved that Darynda Jones still has some surprises left for us fans.
'Either Reyes learned to behave and play nice with the other kids on the playground or his Brother would send an army to strike him down. And I thought *my* family was dysfunctional.'
This is one of those books where so much happened–and so much of it that I can't mention–that it's difficult to know where to begin. If you've been following the series then you know that it's getting closer and closer to the final showdown, so to speak. Rumors abound that book thirteen will be it for the series but I'm not sure. It still feels like there's a lot left in Charley and Reyes's story to tell, so we'll see. But I can say that with each installment things have become more complicated, the characters have evolved in complexity, and the plot has continued to build to nearly epic proportions.
So even though Charley was still definitely her comical, lovable, quirky/witty self, she grew more into her roles as grim reaper and part deity and acted more, well, adult. Okay, adult-ish. Let's not get crazy. Charley will always be the first one to offer a sarcastic retort and poke fun at herself. But I loved that she was still just as loyal and protective as ever when it came to her loved ones. And that played a *huge* role in what happened this time around. Charley spent the majority of the book conflicted about the changes in Reyes as well as with the murders that took place locally, trying to sort it all out. I kind of pinned down what I thought was happening and was pretty close. But that ending! Oh, boy. Things should be interesting in the next go-round, that's for sure. (Somehow I have the feeling that Darynda Jones is chuckling with glee at how she left things so up in the air…)
I know that every time I sit down with Charley Davidson and her offbeat bunch of friends I'm guaranteed to have a great time. That was more than true with The Trouble with Twelfth Grave. I can't even begin to guess what crazy and exciting things will take place next time, but I can't wait to find out!

Book Info:

Publication: October 31st 2017 | St. Martin's Press | Charley Davidson #12
Ever since Reyes escaped from a hell dimension in which Charley accidently trapped him, the son of Satan has been brimstone-bent on destroying the world his heavenly Brother created. His volatile tendencies have put Charley in a bit of a pickle. But that's not the only briny vegetable on her plate. While trying to domesticate the feral being that used to be her husband, she also has to deal with her everyday life of annoying all manner of beings—some corporeal, some not so much—as she struggles to right the wrongs of society. Only this time she's not uncovering a murder. This time she's covering one up.
Add to that her new occupation of keeping a startup PI venture—the indomitable mystery-solving team of Amber Kowalski and Quentin Rutherford—out of trouble and dealing with the Vatican's inquiries into her beloved daughter, and Charley is on the brink of throwing in the towel and becoming a professional shopper. Or possibly a live mannequin. But when someone starts attacking humans who are sensitive to the supernatural world, Charley knows it's time to let loose her razor sharp claws. Then again, her number one suspect is the dark entity she's loved for centuries. So the question becomes, can she tame the unruly beast before it destroys everything she's worked so hard to protect?