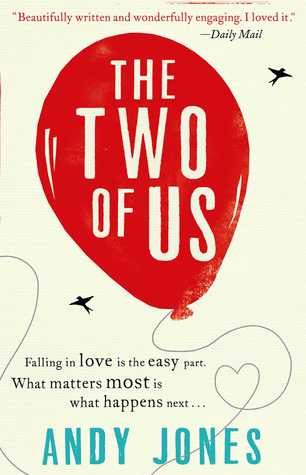 In The Two of Us by Andy Jones, Fisher, a director, and Ivy, a makeup artist, have just begun a brand new relationship. Ivy is almost ten years older than Fisher, but he doesn't care; he knows he's already in love with her. When they receive some unexpected news, the new couple must learn to navigate through the ups and downs that come with it, as well as taking the time to get to know each other along the way.
The story is told entirely from Fisher's view. While it was interesting because you don't see too many stories told strictly from the hero's point of view, this was also somewhat of a downside to the story. I felt that I didn't get to know Ivy all that well, and there were times I couldn't understand why she was acting the way she was because there was no explanations as to why she was feeling a certain way or what was going through her mind. As a result, there were times I didn't care for Ivy all that much because she was being too hard on Fisher and I had no idea why. If there was some reasoning behind it, I probably would have felt more sympathetic towards her.
I also didn't feel the emotional attachment between the characters, mainly because we don't get to experience what Ivy's feeling. Fisher's feelings are laid out from the beginning; he tells Ivy he loves her, we get to see his frustrations with her and their relationship, as well as his determination to make it work. We don't get any of that from Ivy. And when she finally tells him she loves him, it didn't really feel like she did. Towards the end she redeems herself a little bit and I started feeling that she did care for Fisher, but I should have felt that way from earlier in the story, not at the end of it.
There's a side story with Fisher's best friend, El, who's dying from Huntington's disease, and his partner, Phil. I loved how Fisher was there for both of them, and it was sad to see how El was deteriorating. Ivy was great with El, which I enjoyed since we hadn't really gotten to see how much of a caring side she had up until meeting him.
The Two of Us has some funny moments, some serious moments, and some heartbreaking moments. It was beautifully written and I was immediately pulled into Fisher's world. Unfortunately, not understanding Ivy and her motivations and feelings throughout most of the book dragged it down a bit for me. I still enjoyed it though and recommend giving it a read.
Book Info:

 February 9, 2016 | Washington Square Press |
A charming, unconventional love story about a couple who embark on a wildly passionate, two-week fling that will change both of their lives forever. If you loved One Day and The Rosie Project, you will fall head-over-heels for The Two of Us.
Anyone can fall in love. But not everyone can stay there.
Fisher and Ivy have been an item for all of nineteen days. Both of them have been in relationships before, and this time around, they know something is different—they are meant to be together. The fact that they know little else about each other is a minor detail.
But over the next year, a time in which their lives are irrevocably altered, Fisher and Ivy discover that falling in love is one thing—and staying there is an entirely different story.
The Two of Us is a charming, honest, laugh-out-loud novel about life, love, and the importance of taking neither one for granted.