The Tycoon's Convenient Bride…and Baby by Shoshanna Evers: I really liked this book! To begin with, I am always drawn to books and novellas that have the word "Tycoon or Billionaire" in their title. So after reading the book blurb, I just had to read this novel. Although Ms. Evers has written quite a few books, she is a "new to me" author, and I can't wait to read some of her other offerings. This is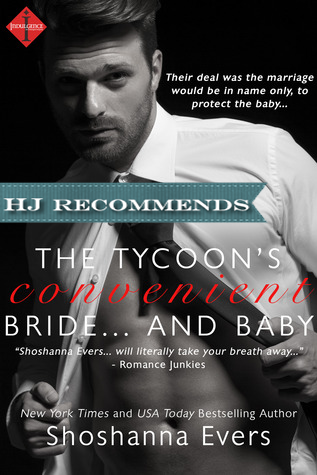 a nicely written marriage of convenience romance with a plot that kept me interested from the very first paragraph.
Lauren Peters is a wonderful character. Not only is she smart and beautiful, she has a lot of spunk and determination, even after being in a car accident that caused her to become infertile. Lauren owns and manages a successful daycare center in midtown Manhattan, which in and of itself is rare, considering how much she wanted to have her own family some day. She is strong, independent and a wonderful aunt to her twin brother's daughter Callie.
Mack Hansen is one hot and sexy alpha male. In addition to making tons of money by buying and selling commercial real estate, he is a womanizer. He is also Lauren's brother's business partner and Callie's godfather. He is successful because he lets nothing get in the way of his business. Although he doesn't realize it now, his life is lonely and without love.
Callie is a wonderful baby and Lauren loves taking care of her while her brother and his wife go on a well deserved yachting vacation. Unfortunately, something happens and they are presumed to be dead at sea. The will is read, and stipulates that whoever takes care of Callie must be married. Needless to say, leaving Callie in the hands of the foster care system is not an option, so Lauren and Mack agree to marry for Callie's sake. Predictably, one thing leads to another and Lauren and Mack fall in lust with each other.
Lauren and Mack are truly great together. Their heat is scorching and Ms. Evers does a wonderful job with creating hot, sensual love scenes. Mack has the uncanny ability to make any woman swoon and Lauren is the lucky recipient of his sexual talents.
This is an entertaining book that I enjoyed tremendously. Ms. Ever's writing style is straightforward and easy to understand. For the first time in a long time, I did not have to decipher a scene or verify a word's meaning, which I found to be quite freeing. This book was truly an enjoyable escape, where I lived vicariously through the characters and cheered them on through thick and thin.
I sincerely recommend this title to all book lovers that enjoy a fast-paced romance, with tons of passion and a happily ever after.
Book Info:

Publication: July 28th 2014 by Entangled Indulgence
After her brother and his wife go missing and are presumed dead, Lauren Peters plans to raise their infant daughter. Her brother's will, however, stipulates that baby Callie can only be raised by a married couple. Lauren's as single as they come.
Mack Hansen can't stand idly by while his business partner's baby is thrown into a foster home. As he sees it, there's only one solution—he and Lauren will marry for the sake of the baby—and he'll keep his attraction to her at bay.
Lauren knows that Mack is all about business, including their marriage of convenience. But her unexpected feelings for him have her turned upside down. With passion sizzling between them, can Mack keep Lauren from stealing his heart…and becoming his wife for real?