In The Undercover Scoundrel (The Hope Diamond Trilogy #3) by Jessica Peterson, Serving as a spy for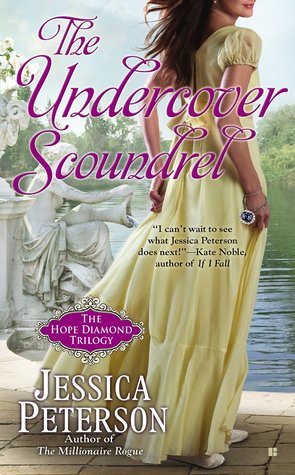 the past decade in hopes to help his fellow Englishman win the war, Henry Lake had to give up the one woman he has ever loved. Lady Caroline. They may have been teenagers at the time, but their love was true and honest. Now with Henry back in London, searching for the French Blue diamond, he comes across Caroline for the first time in twelve long years. Only, once reunited, he's not sure he'll be able to leave her once again.
"…I never heard from you, nor did anyone else. The way you disappeared after taking all that I had to give — the grief, Henry, you cannot know the grief I have suffered. And now, to know that you've been alive all this time…"

I know, Caroline, he wished to say. I know the weight of your grief, for I have carried it as my own these past twelve years.
Lady Caroline, now the dowager Duchess of Berry, thought visiting her brother, the Earl of Harclay, would be a rather uneventful trip. Instead, she is shocked to see Henry back in London. But now that Caroline is widowed and could choose to marry again, she's not sure if she can forgive Henry for leaving her twelve years ago. Especially knowing that he would only leave her again after the Hope diamond is found. Caroline realizes, though, that trying to resist his charms and keeping her heart safe may prove to be too difficult.
'Oh, God, she thought. It's happened, the thing I swore never would. I'm in love with Henry Beaton Lake. Again.'
The Undercover Scoundrel was an absolute joy to read. With fun, witty characters — a few of them spies, no less! — and lots of dramatic scenes, this Regency had me on the edge of my seat, flipping pages as fast as I could go.
This is actually the first book I have read in The Hope Diamond Trilogy. And even though this is the apparent conclusion, I was able to easily follow along with the plot. There were quite a few characters, all having important roles in the ongoing search for the diamond, and I thought they were all extremely well defined by author Jessica Peterson. Somehow, even the more sinister characters were almost likable in a way, or at least had some bit of charm to their personality that kept me interested. Not always easy to accomplish, but very well done here.
Henry and Caroline, I thought, had a wonderful rapport together. There was almost a childlike innocence to the teasing and fun they had. I loved the scenes where they were a bit removed from the search for the diamond and were able to laugh and enjoy each other's company. Caroline was comical in her clumsiness, which paired with Henry's stealthy ways from being a spy…even though he had a bad leg and was wearing a patch on one eye, was an entertaining match to say the least!
And there was so much passion between Caroline and Henry. *whew* It seemed as though their romance was thwarted at every turn for most of the story, but if anything, it made the connection they had even more intense. I thought it seemed very realistic that neither one wanted to fall in love all over again when they reunited as adults, after spending over a decade harboring their broken hearts. I won't give away the ending, but I will say that their HEA was hard-won and extremely romantic.
Do you love a Historical Romance with a stellar plot and a second chance for star-crossed lovers? If so, The Undercover Scoundrel is definitely for you.
Book Info:

Publication: June 2nd 2015 | by Berkley | The Hope Diamond Trilogy #3
The author of The Millionaire Rogue returns to her dazzling series about a bygone era filled with romance, espionage, and one dangerously seductive diamond…
Mr. Henry Lake spent the past twelve years uncovering the most scandalous secrets of Europe's wealthy and powerful, serving as one of His Majesty's most decorated spies. But when a mission to find the legendary French Blue diamond brings him back to London, and face to face with a beautiful noblewoman he once loved, it's his own hidden passions that are uncovered…
Lady Caroline, dowager Duchess of Berry, knows better than to lose her head over a man. After an embarrassing romantic entanglement forced her into a loveless marriage and early widowhood, she learned to never trust in desire, especially when it comes to the man who once broke her heart. Only, despite her good sense, she finds Henry impossible to resist—even when he once again places her in deathly danger…