In The Unexpected Honeymoon by Barbara Wallace, Larissa Boyd is probably the first occupant at romantic La Joya del Mayan resort to ever rent the honeymoon suite and not be getting married. Her trip, and the weeks leading up to it, definitely didn't work out as planned. So while nursing her broken heart and wounded ego, Larissa didn't expect to come face-to-face with the most handsome man she's ever seen. Carlos may also be the saddest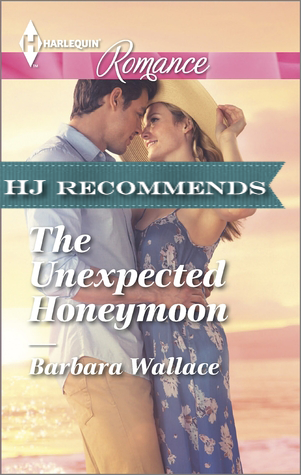 man she's ever met, hiding the pain of losing his wife behind a a mask of cordial smiles. Larissa gets caught up in the romance of the resort, helping out a couple intent on making their dreams come true. In the process, she and Carlos grow closer until the attraction sparking between them becomes too much to deny. Will Larissa be able to walk away from her vacation without leaving her heart in Mexico?
'A real relationship required two fully committed hearts, and she had the sinking feeling her heart had gone and found a mate that refused to open his.'
General manager Carlos Chavez has only been at the resort for six weeks and he's already tired of fixing the messes the former manager left for him to sort out. Then Larissa enters the picture, with one catastrophe after another following her. Another high maintenance beauty is not what Carlos needs in his life after having lost his wife about five years ago. But looks can be deceiving and he finds that Larissa is actually a very considerate, gracious person who threatens to unlock the emotions he's kept inside for years. Can a jaded widower possibly believe in love again when there's a chance he might get his heart broken?
'Larissa Boyd was recovering from a broken heart. Worse, she was an incurable romantic. He would not take advantage of either.'
The Unexpected Honeymoon is an engaging romance full of surprises while set in lover's paradise: the Mexican jungle on the Yucatan peninsula. Talk about dreamy…
When I started reading this novel, I wasn't exactly sure where things would end up between Larissa and Carlos given their differences. Well, aside from a HEA, of course, as this is a Harlequin book! There just seemed to be too many things standing in their way to form a real relationship. But author Barbara Wallace was able to turn the heartache Carlos and Larissa endured before meeting each other into a connection they shared that was stronger than either of them could resist. And try to resist and fight that connection they did, continuously, until Larissa's time in paradise was almost up. Then the heat was on big time.
I thought Larissa turned out to be a very caring and passionate character who was completely different than I mistook her for at the very start of the story. I liked that she tried to joke around and be lighthearted with Carlos, who was so serious and obviously hiding a lot of pain. Larissa wanted to be the one to help him move past those emotions if he would just let her in. They had some very poignant moments as they were realizing their true feelings about past relationships and about each other that were quite moving. And even though it was bittersweet, I truly enjoyed getting to know another couple staying at the resort, celebrating their anniversary in style. I won't give away the details but the event initially helped bring together Carlos and Larissa and then threatened to tear them apart. Dramatic, but it worked perfectly with the plot.
I think contemporary romance fans will be more than pleased with this tropical love story. And if you've read Larissa's best friends Chloe and Delilah's books that came out previously, you'll be glad to see Larissa get her chance at happiness as well.
Book Info:

Published October 7th 2014 by Harlequin Books
A holiday to remember…
Widower Carlos Chavez manages La Joya del Mayan, the most romantic resort in Mexico. On good days, the romance passes unnoticed; on dark days, it only reminds him of his loss.
But the honeymoon suite's latest guest, Larissa Boyd, has rocked his steadfastness. Stunningly beautiful, she seems lost. And no wonder…she's on a honeymoon for one!
The chemistry is instant – and their similarities run deep. Could it be that the two loneliest hearts on the island have found love…in the most unexpected of places?