The Unlikely Lady by Valerie Bowman:There is nothing more wonderful than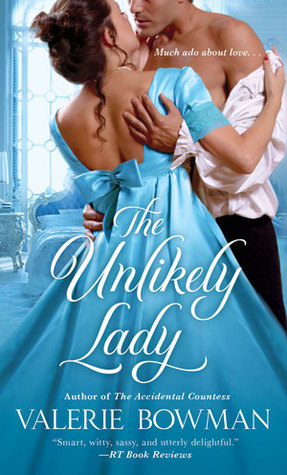 finding a new author and truly enjoying their work, with the exception of finding one that also has a backlist! This was my experience with The Unlikely Lady by Valerie Bowman, a new to me author but definitely one worth discovering.
This story treats us to the romance between Jane Lowndes and Garrett Upton. Jane is a confirmed bluestocking spinster at the ripe old age of 26. She's quite happy in this role, spending her time reading as much as possible and avoiding society whenever she can – with the exception of social events she can't get out of. Her saving grace (as far as her mother is concerned) is the companionship of her two friends Lucy and Cass, who have both recently found beaus and whose company might entice Jane towards marriage (or at least, so her mother desperately hopes). When in their company Lucy's cousin Garrett is often present, a man with whom Jane constantly finds herself at odds. They argue over anything and everything and generally despise each other's presence. Now all together for one of the social events of the season, Cass's wedding, Jane and Garrett waste no time starting in on each other.
"Reading is quite overrated if you ask me, Miss Lowndes. Besides, you do enough reading for both of us." Upton replied. "What is it you're reading this time?"
Jane gripped the book. "It's Montague's Treatise on the History of Handwriting and Graphology, if you must know."
"Good God, that sounds every bit as dull as I expected." Upton shot back.
One of the events leading up to the wedding is a masquerade ball. Without her glasses Jane is quite blind and when a (as far as she can tell) handsome gentleman lures her into an upstairs portrait room and expresses interest in her, Jane's thoughts are in a turmoil.
"She'd been right about him. He was attempting to get her alone with him. She had no experience with such things. What happened next? Would she be forced to slap him? Should she use the words "unhand me Sir?" or threaten to have her brother call him out? That would be scandalous, but perhaps a bit too scandalous. Of course, she didn't have a brother, but he didn't know that. An insignificant detail, really."
Still, no-one has ever shown any interest in her before and she decides to throw caution to the winds.
"She leaned closer. "I should warn you. I don't kiss gentlemen whom I've just met and certainly not alone in drawing rooms. "
"I should warn you. I'm quite persuasive… and a very good kisser."
"Really…?" Her voice was breathy, a mere whisper. "Persuade me then."
His lips met hers, dry but firm. What was next? Was this all there was?
Then his mouth opened and slanted across hers and Jane forgot to breathe."
The magical kiss is everything Jane could have hoped for – until she is horrified to realize that it is Garrett that she is kissing! Thus starts their unorthodox and humorous romance as Garrett and Jane discover that underneath their animosity towards each other is in fact something much dangerous – the beginning tendrils of true love.
I really enjoyed everything about this story. Jane captured my attention immediately with her love of reading and her direct , no-nonsense approach to everything in her path. Any and all obstacles are dealt with in a firm and decisive manner. Her internal monologue had me laughing out loud on several occasions as she tries to figure out how to deal with her new and untoward (as far as she is concerned) attraction to Garrett. And Garrett is equally engaging as a stalwart, loyal man who has the persona of a rake but in actuality is nothing like that. He's kept the best parts of himself hidden from Jane and as she uncovers them she learns that you can't judge a book by its cover. In fact Garrett turns out to be the man of her fantasies, one who appreciates all of her, intellectually and physically. Once the sexual attraction between them is established there are several delightful, sexy scenes that cement their true feelings for each other. The development of their romance, from prickly antagonists to soul mates was wonderful.
The secondary characters play an equally vivid role, in particular Cass and Lucy with their matchmaking attempts and general shenanigans. Their friendship with Jane is sweet and funny and makes up a good portion of the story. Garrett is a little more closed off than Jane, his friendship with Julian and Derek (Cass and Lucy's betrotheds) being of a more serious nature which is natural for the men, all having survived the Spanish war and the difficulties therein. They have an understanding of each other and the trauma experienced binds them in a different way then the women, but just as strongly.
The setting of the story, in particular the scenes at the English country estate were well described and very enjoyable to read. The mannerisms, clothing, food etc. were all meticulously researched and added an authenticity to the tale. The allusions to Shakespeare's play Much Ado About Nothing (both literal and figurative) were a fun touch. Everything from the first to last page was delightful and this story will definitely be placed on my reread shelf.
Book Info:

Published May 5th 2015 by St. Martin's Paperbacks
Miss Jane Lowndes is a confirmed bluestocking. She's convinced that if she can wait out her parents' demand that she marry, someday she can be a confirmed spinster and hold intellectual salons, her fondest dream. No man wants a bluestocking for a wife, after all. And that's exactly the way Jane likes it. In fact, she's invented a fictitious chaperone to help her achieve that purpose.
Lord Garrett Upton is a devil-may-care confirmed bachelor. He's lived through the war, and now that he's back in London, he intends to enjoy life to the fullest. Marriage is certainly not a part of that plan. He's known Miss Lowndes for years, and the two of them have long engaged in a war of words. Jane's latest scheme to pretend she has a fake chaperone is none of his business . . . until her desire to involve herself in a scandal becomes all too personal.
When Garrett and Jane mistakenly kiss at a wedding party masquerade, their well-documented dislike for each other is turned on its ear. And when a devious widow, who will stop at nothing to have Garrett, plots to keep them apart, will their desire for each other overcome their dreams of remaining unattached?