In The Unexpected Consequences of Love by Jill Mansell, Photographer Sophie Wells is beginning to make a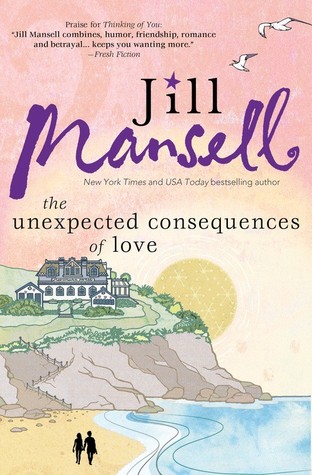 name for herself in the beautiful resort town of St Carys. While her professional life is taking off, her romantic life is non-existent. And that's the way she wants to keep it, even though her good friend Tula Kaye insists she should get out there dating. The past has taught Sophie that sometimes it's not worth taking a risk on love. So when handsome business owner Josh Strachan takes notice of her, she shoots him down right away. Josh, however, doesn't seem to take the hint.
"Relationships aren't the be-all and end-all. They go wrong. Most of the time they're more trouble than they're worth. There's more to life."
"Right." He paused. "If you say so."
Josh is happy to be home in Cornwall after a business venture in America didn't end the way he would have hoped. Right away he falls back in with his good friend Riley Bryant who spends his days surfing and chatting up the bikini-clad girls on the beach. But there's only one woman Josh has his eye on: Sophie. His attempts at winning her affections have failed miserably so far. And with Tula making moon-eyes at him and Riley making the moves on Tula, it feels like Josh is back in school again. When the dust settles, who will end up together? And will someone be walking away heartbroken?
'He was strong and honest and knew what he wanted. He was also a problem-solver, and somehow, miraculously, he had managed to sort out her problem. He'd freed her from the cage she'd built around herself.'
The Unexpected Consequences of Love was a heartwarming story that was almost like following a fun and unpredictable British soap opera. Numerous interesting characters, romances beginning and ending, and even health and career issues made this book hard to put down.
I have only read one other title by Jill Mansell so far, Thinking of You, a couple of years ago and still remember the wonderful writing "voice" she has. That story as well as this one zipped right by with the easy prose. Ms. Mansell has a nice way of making the scenes flow one into the next, and with adding the perfect touches of humor along the way. There were some heavier moments with a few characters but I thought the situations were handled in such a way that it didn't bring down the tone of the book at all. Instead, it just made the story seem to have more depth and also to make it seem more realistic that things certainly weren't perfect for the characters.
Speaking of the characters. Like I said…there are quite a few. Sophie, Josh, Tula, and Riley were really the main focus but there were several more that caught my eye. Margaret, a writer and Riley's aunt, was a lot of fun with her her no-nonsense demeanor. Dot, Josh's grandmother, and her ex-husband Lawrence were also an intriguing pair. They all really helped to make this a more complete story as we got to see what else was going on around the main characters to cause some of their decisions and who influenced their lives.
Sophie was a wonderful, solid character who had sadly locked away her heart and refused to give in to her feelings. There was definitely a good reason for that, but I'm glad that she had Josh persisting to give him a chance. I thought they were quite sweet together and Sophie added a nice dose of humor to their dialogue, picking on him and brushing him off. Tula I wasn't so sure about some of the time. She came across as a bit selfish and sort of fussy when it came to men. But I did warm up to her at the end and found her to have grown considerably over the course of the story. And Riley. He was probably my favorite character. He came across as a lazy, hedonistic playboy. But there was a lot more going on under the surface than it first appeared. I loved his sarcastic commentary with Josh and his pursuit of Tula. So much fun.
If you're a fan of well-written lively but emotional Chick-Lit, I think you'll enjoy the lovely cast of characters in The Unexpected Consequences of Love.
Book Info:

Published February 3rd 2015 by Sourcebooks Landmark
Sophie has no interest in finding love. But what happens when love finds her?
Sophie Wells is a successful photographer with a focus on putting the past firmly behind her. When Josh Strachan returns to the seaside town of Cornwall from the States to run his family's hotel, he can't understand why the fun, sexy girl has zero interest in letting him-or any man for that matter-into her life. He also can't understand how he's been duped into employing Sophie's impulsive friend Tula, whose crush on him is decidedly unrequited. Both girls remain mum about the reasons behind Sophie's indifference to love. But that doesn't mean Josh is going to quit trying…