In The Valentine's Day Disaster: A Twilight, Texas Novella by Lori Wilde, When event planner Sesty Snow pitched her idea for a bachelor auction for Valentine's Day, she had no idea she would come face-to-face with her first love, Josh Langtree. Sesty hasn't forgotten about him in the ten years that have passed by, and the NASCAR star still tempts her body and her heart. Working with him during his community service time proves to be too much temptation and before long, Sesty feels like she's seventeen all over again. Only this time the stakes are much higher and the desire is much stronger.
'But she'd been scorched by love, and he'd been the first one to set her ablaze. How stupid would she be to go back for third degree burns?'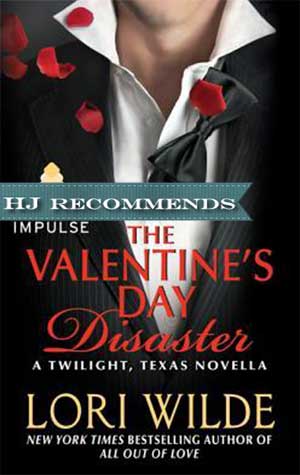 NASCAR driver Josh Langtree didn't expect to end up back in his hometown of Twilight but it's the perfect place to recuperate from his injuries. The crash affected more than just his physical well-being. It's started him thinking about where his life is now and about his past. Sesty was a big part of his life while he was in school. And she's just as beautiful and smart now as she ever was. Josh told himself he wouldn't let himself trust a woman again after his last breakup, but it's difficult to stay strong when he can think of nothing but Sesty, morning, noon and night.
'Yep. Josh was finished with love. From now on he was a lone wolf. Sex, oh sure. He'd still have plenty of that, but love? No more. It was not worth the pain.'
The Valentine's Day Disaster is a reunion story done just right. This novella has Texas charm, heart, a little bit of snark, and a whole lot of emotion.
If you're new to Lori Wilde's Twilight, Texas, series, this would be a great place to start. It can be read as a standalone or in order with the other books. There's not too much given away in Sesty and Josh's story about the other residents in town, so there aren't really any spoilers to worry about. But we do get to see what makes Twilight so special: love. Because of the Sweetheart Legend and all that surrounds it, Valentine's Day is the perfect day to be in Twilight. The town celebrates love every day so they really ramp it up for the holiday. That includes the bachelor auction Sesty set up, giving the local single ladies a chance to bid on the hottest guys that Twilight has to offer.
The reunion trope is definitely a favorite of mine. I was a little worried with this being a novella that we wouldn't get a real sense of who Sesty and Josh really are and about their background. But Lori did a great job including just enough information to give light to their past together and apart to make us better able to understand them now. I thought it was kind of an interesting twist that both characters were on the rebound when they met again for the first time in a decade. That skepticism and weariness added a whole extra layer to their emotions. It also added a little comic relief to the story with their whole "anti-Valentine's Day" agreement they had going while denying their feelings for each other.
If you're in need of a quick romantic story with fun, engaging characters, The Valentine's Day Disaster should do just the trick.
Book Info:

Published February 4th 2014 by Avon Impulse
A Twilight, Texas Novella
Valentine's Day can be a real disaster … even in a town like Twilight, Texas!
These days, event planner Sesty Snow is no fan of hearts, flowers, or goo-goo eyes over dinner. She's learned to be in control of her life and her emotions. Still, running Twilight's annual Valentine's Day bachelor auction is right up her alley—until her high school sweetheart zooms back into town. He's still heart-stoppingly handsome, but it's clear he hasn't changed the daredevil ways that put the brakes on their first love.
Injured NASCAR driver Josh Langtree isn't up for being anyone's sweetheart these days either. He's just looking for a place to lick his wounds … until a misunderstanding lands him doing community service in Sesty's auction. Soon he finds himself standing in front of hundreds of screaming women—wearing a tux and a smile. And then there's Sesty—looking as tempting as ever.
He says he's changed, and the sparks between them are flying fast and furious, but can Sesty trust Josh to take the wheel and drive her into the future she never dreamed possible?