In The Virgin's Shock Baby (One Night with Consequences #33) by Heidi Rice, forced to do her father's bidding, Megan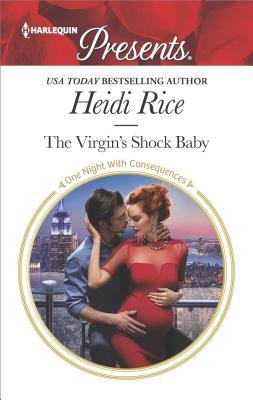 Whittaker needs to seduce Dario De Rossi and find out what he's up to when it comes to her father's business. However, Megan finds herself falling under Dario's spell and does something she never thought she'd do by sleeping with the gorgeous man. But when Megan is punished for not stopping Dario's plans, will Dario realize that what he and Megan have could be the start of forever love or will his past demons hold him back from ever achieving the happy ever after he deserves?
"Why do I impress you?" she asked, shamelessly. Fishing for a compliment.
The tanned skin around his eyes crinkled, as if he knew exactly what she was up to. "You figured out the espresso machine without an hour-long tutorial."
She laughed and glanced back at the complex contraption. "It's not that hard for a computer geek."
I have enjoyed the few books by Ms. Rice that I've read and this story was such a worthwhile read, not only because it encompasses the surprise pregnancy trope, but because of the fast-paced storyline that had me wondering whether the heroine would be all right because of what happens to her; the dialogue that was intense due to both the main characters pasts that had me sympathizing with everything they've been through; and the ending that had me worried that the hero would never realize how much the heroine means to him. Will Dario be able to overcome his past demons to have a future with Megan? The way this story started had me liking the heroine immediately, as she's willing to do anything to protect her sister, even if it means doing something she's not all that confident she'll succeed at. Is she capable of capturing Dario's attention? However, it was from the moment the hero and heroine meet that had me reading this book quickly, determined to discover whether Megan would be able to accomplish the task her father has given her.
The dialogue was compelling and I loved the interactions between Megan and Dario, as he does everything in his power to help her heal from the ordeal she suffers while trying to hide his lie from her. Moreover, the heroine is strong, brave and I liked how determined she was to protect her sister, even if it means sacrificing herself and doing something she has absolutely no clue about. How could she seduce Dario when she's so innocent? I also liked how she challenges Dario when it seems he's putting some distance between them. Will Megan get what she wants? Will Dario give in to the chemistry between them again? While the hero, he's been through a lot in his life and I could understand why he'd never want happy ever after with a woman, even if she is his Ms. Right, for fear of turning out like his father. I also liked how the hero was willing to do everything in his power to protect the heroine after the trauma she suffers, even if it means lying to her to get her to give him a chance to keep her safe and help her.="If you need proof," he said, when she didn't respond, "I can get my doctor to contact you."
"No, that's not necessary. I trust you," she said, marking out her innocence even more. He wanted to tell her not to trust him, not to trust any man, but before he could find the words she added, "I don't either, by the way…Have sex without protection, I mean. Just in case you were wondering, and were worried too."
The gauche statement was so earnest, his lips tipped up in a wry smile. "With your vibrator, you mean?"
"Um, well…" The blush intensified on her cheeks, before she buried her hands in her face and groaned. "Oh, God, I feel like such a clueless muppet."
Overall, Ms. Rice has penned a fantastic read in this book, which was filled with plenty of emotion that had me empathizing with everything the hero and heroine have been through in their pasts and what they go through on their journey to happy ever after; where the secondary characters in Megan's sister and Dario's best friend had me liking them just as much as the main characters; where the chemistry between this couple was strong and spilled over onto the pages wonderfully, because no one has ever made Megan feel as special as Dario does; and the ending had me cheering for this couple's happy ever after, as Megan isn't about to let Dario get away without him realizing that his past doesn't matter to her. He's already proven what a good guy he is, even if he did lie to her about their relationship. However, it was the epilogue that wrapped this story up perfectly, as Dario and Megan are so happy and finding love has been good for the hero. I would recommend The Virgin's Shock Baby by Heidi Rice, if you enjoy the surprise pregnancy trope or books by authors Penny Jordan, Maisey Yates, Lynne Graham and Michelle Smart.

Book Info:

Publication: September 19th, 2017 | Harlequin Presents | One Night with Consequences #33
The Italian's one-night heir
Vulnerable Megan Whittaker has orders to find out if tycoon Dario De Rossi plans to acquire her father's business. Reluctantly, she agrees, but doesn't expect to be so distracted by their searing chemistry that she ends up in his bed! Dario does have takeover ambitions, but when Megan is violently punished for her night with the enemy, he feels honor-bound to protect her. They escape to Italy, but this commanding businessman soon discovers a deeper problem. Not only is Megan suffering from amnesia, meaning she believes they're engaged and passionately in love…but she's also carrying his baby!