The Viscount Who Lived Down the Lane by Elizabeth Boyle: Imagine two palatial homes, side by side, both inhabited by men whose lives are dark and joyless. Then imagine that into their lives come happy, cheerful women—can you predict what happens? This is the premise of "The Viscount Who Lived Down the Lane." In one house lives Lord Charleton, a man of middle years whose wife has passed away, and who lives in such pain from her passing that he has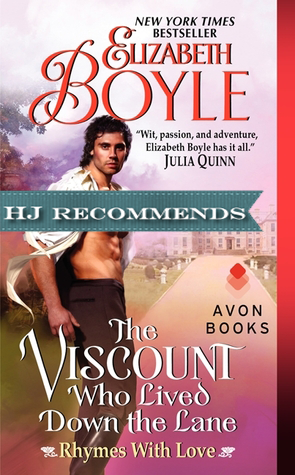 forbidden her name to be even spoken. His secretary attempts to remind him of a debt of hers that needs fulfilling, and Lord Charleton angrily orders it taken care of without knowing all the details.
Six months later, the twin Tempest sisters arrive in London, where they believe that their godmother Lady Charleton is going to sponsor their launch into society. Louisa is practical, and not looking to marry, wary of an old curse, while her sister Lavinia is more starry-eyed. They come accompanied by Hannibal, an ill-tempered old cat. As soon as they arrive outside of the Charleton home, Hannibal escapes, and runs into the house next door, chased by Louisa. Upstairs, after knocking over and breaking a few assorted items, Louisa meets, and maybe sees a little bit too much of, Pierson Stratton, Viscount Wakefield, and nephew to Lord Charleton. Pierson is a crippled war veteran, who drinks too much and hides himself away from the world in his dark, messy home. Louisa's arrival next door, and her well-meaning, meddling ways and mysterious cat, slowly starts to change his life. As well, the addition of two lively girls and their chaperone, Lady Aveley, to the Charleton home turns it upside down as well.
Pierson is not only self-pitying and morose, he's also bitter, since his fiancé left him when he came back from the war injured and crippled. Louisa's barging into his home brings not only fresh air and sunshine in, but also an awareness of what else had been lacking in his life:
This miss with her pretty pink cheeks and luscious mahogany hair—which led to yet another revelation—how long had it been since he's been with a woman?

Sheltered, innocent, and firmly convinced in curse that precludes marriage, Lousia is taken aback both by her encounter with a barely dressed man, and with his terrible temper.

…that hadn't stopped Louisa from dreaming about the man. How could she not? She had never met anyone who so resembled a pirate—what with his dark glances and outlandish mane of hair. And in her dream, he hadn't been on the deck of a ship but in a ballroom—wearing only his blue silk wrapper—and from his dangerous smile, she'd been shocked to realize she wanted to dance with him just like that—knowing he had nothing on beneath
Besides Louisa and Pierson, the secondary characters are lovely and add a great deal to the story. Sad Lord Charleton has history with the beautiful and slightly sad Lady Aveley, and his heir, Mr. Alaster Rowland, is an old but estranged friend of Pierson's. Alaster is a charming but handsome and useless drunkard who is in desperate need of rescue, and that probably will come in the next book in this series!
"The Viscount Who Lived Down the Lane" is a book worthy of a recommendation. Louisa and Pierson are a magical combination. Never had a man needed a more managing female than the way Pierson needs Louisa. This is not a deep book. This is a happy, easy read, where the only darkness lies in Pierson's wounded warrior soul, and the light shines brightly from Louisa's cheerful demeanor. It's the perfect book for a pick-me-up, and when you're looking for a fun, lighthearted read.
Book Info:

Published October 28th 2014 by Avon
In New York Times bestselling author Elizabeth Boyle's fourth novel in the Rhymes With Love series, a resolute young woman goes toe-to-toe with the Beast of Mayfair…
She has no desire for love…
As she arrives in Mayfair, Louisa Tempest is horrified when her incorrigible cat bolts from the carriage and dashes into a neighbor's house, where she comes face-to-face with the reclusive Viscount Wakefield. But even more dismaying than his foul temper is the disarray in which she finds his home. Convinced his demeanor would improve if his household were in order, Louisa resolves to put everything to rights.
…until she meets the viscount who lives down the lane.
Much to his chagrin, Wakefield finds it impossible to keep the meddling Louisa out of his home, invading his daily life with her "improvements," and his nights with the tempting desires she sparks inside him. Wounded in the war, he's scorned society ever since his return . . . until Louisa opens the door to his heart and convinces him to give love a second chance.