The Wedding Date Bargain by Mira Lyn Kelly: Wedding Date Bargain by Mira Lyn Kelly: Years earlier in college, Max Brandt had a crush on Sarah Cole,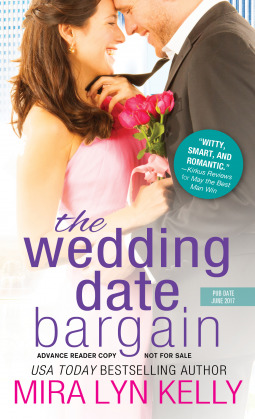 a crush she returned. Yet when she offered up her virginity, he turned her down, wanting her to save herself for someone she loved, as she had told him she wanted. Now, years later, Sarah is surprised to run into Max at a bar where he was having a bachelor party for one of his best friends.
Max is just as surprised to see Sarah, the girl he never got out of his mind. And when she offers up her virginity again, he makes a deal with her–four dates to romance her, then he would have sex with her. She agrees, neither expecting to become attached to one another. The more time they spend together, the harder they both know it will be when she has to leave again.
Max doesn't want to be in a relationship with Sarah because he believes it will get in the way of her professional goals. Sarah doesn't want to become attached to Max because her experience with her ex-fiancé has left her weary of dating. I think if they had just sat down the discussed their goals and hopes for their relationship, some of the drama and misunderstandings could have been solved. Instead they made assumptions about what each other wanted and tried to put a time-table on their relationship, which created some tension between the pair. Max is especially guilty of this, which was frustrating at times.
I enjoyed Max's tight-knit group of friends and how easily they welcomed Sarah into their group. I'm looking forward to the story of Sean, Max's best friend, and Molly, Max's younger sister. It's hinted that their story will be next, and I can't wait to see how that unfolds and how Max deals with it.
The Wedding Date is a sweet story. There are some misunderstandings, but for the most part both Max and Sarah just want to do what they think is best for one another. If you enjoy second chance romances, this may be a book for you.

Book Info:

Publication: June 6, 2017 | Sourcebooks Casablanca | The Wedding Date #2
When Sarah Cole finds herself in Chicago with two months to kill before her New York promotion goes through, she decides it's time to take care of a few things—like the inconvenient issue of her virginity. Sarah knows the right guy for the job too: Max, the notorious lady's man she's been crushing on since college.
Max Brandt is all for a fling, just not with Sarah. She's way too good for him. He walked away from her once, but it wasn't easy.
Things are different now, and the plan is so simple. There's no way either of them would do something as silly as fall in love…