In The Wedding Wager (Weddings in Westchester #2) by Barbara DeLeo, Nick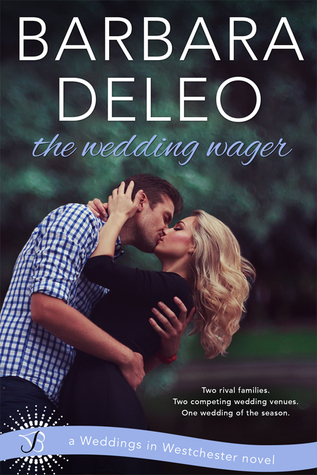 Katsalos might be his family's last hope to save their floundering wedding venue. But what he thought was a good way to get his family's business back on track has one major problem to what he thought was a perfect plan. That problem is Erin O'Malley, the daughter of his family's biggest rival. When a high-paying client can't choose between the Katsalos and O'Malley businesses, Erin proposes a wager.
"We'd set up a challenge to be judged by someone influential like, say, Wedding World magazines – someone Amy and her parents would have faith in. The company whose whole venue is deemed best by an independent judge would get to hold the Williams wedding outright."
Erin O'Malley never thought she'd be so desperate to bet everything she'd worked so hard for. But she wants to win the contract to host the wedding of a Congressman's daughter, and will do anything to achieve her goal, even if that means proposing a wager with the son of her family's rival in the wedding business. However, she never expected her attraction to Nick might distract her from her goal. Can she show Nick that there's something bigger they can both win out of their wager than just the chance to host an important wedding? That something bigger being a chance at forever love.
Right from the beginning, this stand-alone second book in Ms. DeLeo's Weddings in Westchester series took me completely by surprise, as Nick doesn't know a thing about weddings and yet he's willing to do whatever it takes to help his family. That factor alone drew me into this fast-paced story, and the plot engrossed me, as it was filled with surprises. Surprises that had to do with which of the challenges I thought each of them would win out of the three that ended up being proposed, and it turned out I was completely wrong with my guesses.
Ms. DeLeo opened this story wonderfully with Erin proposing the wager to Nick. She doesn't really seem like the type of woman that would put everything on the line to win, yet she has to prove to her father that she's good enough to have a bigger role in the family company, so she'll do whatever it takes. Both Nick and Erin's competitiveness and drive to win comes through loud and clear in the dialogue. Traits that made me really like this hero and heroine, as the moments when they conversed increased the sexual tension between them.
Erin is strong, brave and tenacious. She's determined to win the contract, even if it means making changes to her original plan. Changes that may just give her a leg up on Nick, or could possibly set her up for failure. And even though she has a setback, she figures all hope isn't lost. Indeed, her fighting spirit is what I liked most about her; the fact that she may be down, but she certainly wasn't out. While Nick, he's charming, confident and even though what he's doing for his family isn't really his thing, he wants nothing more than to succeed in the role he's taken, so his parents don't lose everything and he figures his skills as a mathematician make him more than qualified to win the contract.
"It's pretty easy to get most people's number, work out what makes them tick, how the sum of their parts will add up to a neat solution. Not with you."
"That's an original pickup line." Her fingers drummed against the bowl of her wineglass.
He chuckled and shrugged. "I'm a mathematician. What can you do? But at the very least you should take it as a compliment. I will work you out, Erin. I'll find your variables and your points of differentiation. By the time we're through, I guarantee I'll have you summed up."
Although there were no in-depth sex scenes, what romance was in this book was filled with passion and did justice to the intense chemistry that existed between Nick and Erin from the moment they came face-to-face in the first chapter. Erin knows that she could be setting herself up for a broken heart by getting involved with Nick, but it's a risk she's willing to take because she finds she can be herself with him. He doesn't judge and certainly doesn't think she's incapable of anything she puts her mind to like someone else in her life – her father; a man that doesn't think she's capable of winning unless she resorts to dirty tactics.
Overall, Ms. DeLeo has penned an incredible enemies-to-lovers novel, which has looking forward to reading more of this series, because I fascinated by Nick's brother and hope to read his story in the future. I really liked how this story ended with the way Nick declared his feelings for Erin. He was very brave, and it certainly impressed Erin. Enough that she wanted him to prove if there were really any mistakes made in a certain movie since the hero had a thing for critiquing movies and art. Then there's the epilogue that answers the big question. Do their families end up accepting their relationship?
I would recommend The Wedding Wager by Barbara DeLeo, if you enjoy the enemies to lovers trope; or stories where the hero and heroine make a bet where in the end it doesn't matter who wins because they both come out on top.
Book Info:

Publication: May 16th, 2016 | Entangled Bliss | Weddings in Westchester #2
Nick Katsalos has a foolproof plan to save his parents' floundering wedding venue. The last thing he expects is for Erin O'Malley, the captivating daughter of his parents' biggest rival, to waltz in and charm the client who could finally get the family business back on track. Nick would be furious–if only he could stop thinking about her.
When Erin and Nick enter into a wager to determine who will win the contract she prepares for the worst…and is surprised by the glimpses of warmth she sees in the man behind the numbers. But Erin isn't about to forfeit what could be the biggest wedding of the decade to a man as cold as Nick. Especially since securing it means she could finally prove to her father she's just as capable of handling the family business as him.
But as the competition heats up, Erin and Nick must decide what's more important—winning or love.