The Wicked Billionaire by Jackie Ashenden is book two in the Tate Brothers series and revolves around Lucas Tate. This can be read as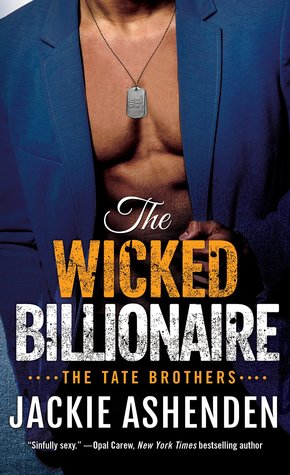 a standalone, but to catch you up, the Tate Brothers have lost their adopted father and have inherited billions from him. He left each brother a letter that contains a request or some kind of important information.
In the Lucas's letter from his dad, it mentions how much danger Grace Riley is in thanks to her dead husband, Griffin, and it's up to Lucas to protect her. Griffin and Lucas trained as SEALS together and Lucas is going to guard Grace, whether she likes it or not. Turns out Griffin had been keeping secrets from Grace and now she's in danger. Apparently, Griffin owed a lot of money to some very bad people and the debt doesn't stop just because he's dead.
Grace is all about her art. It's her main priority. So, when Lucas informs her she's in danger, she's a little overwhelmed. Grace has something to prove and her art is a way to accomplish that. Lucas is the only person who can take her mind off of her art. Her husband couldn't even do that.
Lucas comes off as cold and distant, but that's because he needs to be in control, at all times. When he was younger, he didn't know how to deal with his anger correctly and caused a lot of problems. Because of this, control is very important to him. He denies himself everything, in order to keep everyone safe. But sometimes enough is enough.
"Maybe it's time I stopped denying what I want." The words were full of a kind of rough, dark heat. "Maybe it's time for me to take instead."
When Lucas decides to give into his urges, the heat really picks up between Lucas and Grace. He makes her burn in ways she's never experienced and it makes for some really HOT scenes. But now that feelings are involved, how well will his control hold up after danger catches up with Grace?
Hot alpha, strong heroine, and chemistry so hot, it burns through the pages, makes The Wicked Billionaire, a tempting read you won't want to pass up!
Book Info:

Publication: October 3rd 2017 | St. Martin's Press | Tate Brothers #2
The Tate Brothers were once orphans and they have been raised to do one thing only: protect what is theirs.
As a trained sniper and Navy SEAL, Lucas Tate found the courage to distance himself from the wealthy, wicked patriarch who adopted him. Instead, he's devoted his life to the elite band of brothers from his unit. So when the widow of one of his former comrades finds herself in apparent danger, Lucas makes it his job to protect her against all enemies. . .and not let her out of his sights.
Grace Riley feels overwhelmed by Lucas's presence, but the cold-eyed marksman will do anything to keep her safe. Soon the special attention he pays her becomes a wild romantic distraction―one that troubles Grace, since Lucas was so close to her deceased husband. Still, how can she resist Lucas's intense, ice-blue stare? All she knows is that a life without strong, passionate Lucas is one not worth living. Can Lucas can find a way to honor his former brother-in-arms by saving Grace. . .and loving her, too?