The Wright Brother Hello, K.A. Linde. Where have you been all my reading life? Somehow, I missed you until The Wright Brother, but I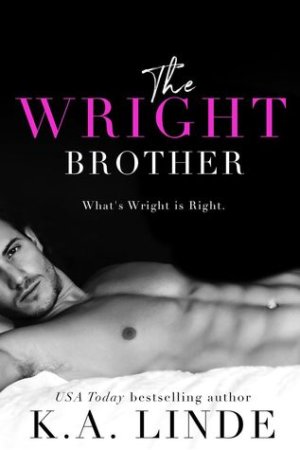 am quickly rectifying that and working my way through your backlist. If The Wright Brother is any indication, we are going to be friends for a very long time.
Emery literally walked in on her boyfriend cheating on her, and the discovery prompts her to drop out of her PhD program and return to her hometown of Lubbock, Texas. She's not running away from heartbreak but rather the breakup made her realize she wasn't satisfied with where her life was headed and didn't want to finish her doctorate degree. She's not exactly sure what she wants to do, but she leaves school and town without looking back.
As soon as she is back in Lubbock, her slightly-crazy and hilarious best friend convinces her to attend a wedding as her plus one even though Emery knows she will run into her high school boyfriend, Landon Wright. She's not worried that she still has feelings for him because she doesn't, but she is still hurt and angry over the way he broke up with her and they have not seen each other for ten years. She agrees to go to the wedding, but she never expected seeing Landon's sexy older brother, Jensen, would be what makes the evening complicated.
Jensen barely knew Emery when she dated his brother, and he doesn't recognize her when he sees her again at the wedding. She is the most attractive woman there, and he wants her in his bed – whoever she may be. He's not one for relationships, and he normally only dates women while traveling to keep things simple, and he certainly would never pursue his brother's ex-girlfriend but does without realizing it. When he does find out who Emery is, he is torn, because he wants her but he doesn't want to want her.
Emery is freaked out by the idea of another Wright brother in her life, but neither she nor Jensen can fight the powerful attraction they both feel. Jensen asks Emery out and both choose to ignore the difficulties that might arise if and when his brother finds out, but Landon isn't the only potential road block to a relationship between he and Emery – Jensen is resistant to any kind of emotional attachment after a bitter divorce. He is very pessimistic about love and marriage, and there isn't going to be a simple path to happily ever after for these two.
The Wright Brother kept me captivated, charmed and laughing until late in the night. Emery is funny, determined and loyal. Jensen is damaged but sensitive; he is a romantic under his bruised heart. They have amazing chemistry, and they have the potential to make a great team… if they can ever get clear of the relationship debris. I am not usually a fan a brother being the ex-boyfriend, but Ms. Linde has a deft hand and crafts an emotional and heartfelt story that made me forget my reservations. If you are like I was and have not read K.A. Linde yet, don't wait a moment longer and pick up The Wright Brother as soon as possible.
Book Info:

Publication: 2/28/17 | Self-Published – K.A. Linde |
I'd dated his brother.
He didn't remember and I wish I could forget.
I may have sworn off the Wright family a long time ago. But when I returned home, Jensen Wright crashed into my life with the confidence of a billionaire CEO and the sex appeal of a god. Even I couldn't resist our charged chemistry, or the way he fit into my life like a missing puzzle piece.
Too bad he'd forgotten the one thing that could destroy us.
Because Jensen Wright doesn't share. Not with anyone. And if his brother finds out, this could all go down in flames.
When it all was said and done, was he the Wright brother?