In The Wrong Bride (Highland Weddings #1) by Gayle Callen, Catriona 'Riona' Duff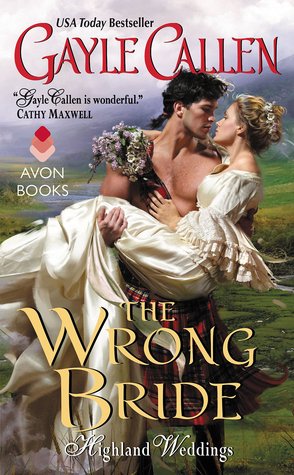 wondered why her aunt and uncle, with whom she had been staying, were acting so oddly. When she was taken from her cousin Cat's room in the middle of the night by a Scottish man claiming to be her betrothed, she starts to figure it out. The bad blood between the Duffs and McCallums is legendary. But the new clan chief Hugh McCallum has taken the wrong woman. And as Riona explains repeatedly that it is her cousin he is supposed to marry, she finds herself in his home and shockingly falling a little more each day for the man holding her captive.
'She was wanton, she was wicked, she was losing the battle with her conscience. This would only bring her misery–she could never be Hugh's bride.'
Hugh would never have resorted to taking Riona if her father would have held up his end of the bargain. But he has a clan to take care of and needs to start off as their new leader on the right foot. Now if he could convince the lass that they have been betrothed practically since they were born and get her to stop lying about him taking the wrong woman, they'd be just fine. Hugh is surprised to find that he feels actual affection toward Riona as well as unrelenting desire. So when family secrets are uncovered and their future becomes uncertain, he knows he will move heaven and earth to keep her in his life.
'He wanted her for his own–he wanted her to want him in return, but didn't know how to make it happen. He suspected being forced to kidnap her might be hard to overcome…'
The Wrong Bride was an adventurous romp through the Highlands of Scotland where miscommunication set the entire story rolling. The romance that resulted was passionate, fun, and slowly built until the final fiery scenes played out.
There were a couple of interesting twists to this historical romance, set in 1727, that kept me glued to the pages. I thought author Gayle Callen did a nice job setting it up and giving just enough details about certain characters to keep readers guessing. The overall storyline itself was certainly one that grabbed my attention right away, even just from the book synopsis and I'm happy to say that it worked very well in this case.
Riona and Hugh were quite the pair. I liked that even though she was so caring and giving, like tending to her sickly sister for so long, she had a strong backbone when it came down to it. She didn't take any guff from her captor and put him in his place. Hugh had that Scottish brawn, along with a brain, but he was fighting some demons from his past which gave him a darker edge. I loved, loved, loved that Riona had the ability to set Hugh's mind at ease and comfort him. They grew to need each other, drawing strength from one another, and to me that spoke of the kind of strong relationship they could build in the future.
The secondary characters were also intriguing and quite well-developed. Everyone from fellow townspeople, to Hugh's closest friends and advisers, to his family all had their place in the story and held their own in the scenes. I liked how Ms. Callen gave us a starting off point for the next installment of this series with the way this novel ended. It sounds like book two should be just as intense and smoldering as this one was.
I think fans of Scottish historical romances will enjoy Gayle Callen's first offering in the Highland Weddings series. This solid story was an entertaining read that had me laughing and sighing happily in equal measure.
Book Info:

Publication: Published October 27th 2015 | by Avon | Highland Weddings #1
USA Today bestselling author Gayle Callen creates an unforgettable story of mistaken identity and irresistible attraction in this first in a wonderfully engaging series set in the Scottish Highlands…
Shaken from sleep during the night and bundled off to the Highlands by a burly Scot, Riona is at first terrified, then livid. Hugh McCallum insists they were promised to each other as children to ensure peace between their clans. The stubborn laird refuses to believe he's kidnapped the wrong Catriona Duff. Instead, he embarks on a campaign of slow-burning seduction.
At first, Hugh cares only what their marriage can do for his people. Now he's starting to crave Riona for her own sake, but her true identity jeopardizes his clan's contract. And unless she chooses to risk all to be his bride, he'll lose the only thing he prizes more than the lands he's fought so hard to save—the passionate marriage they could have together.