In Their Mistletoe Baby by Karin Baine , Freya Brodie thought her marriage to Lucas was as solid as can be until he left her during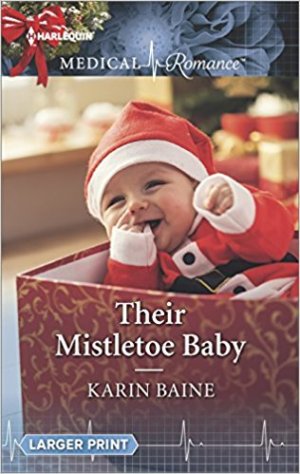 Christmastime with hardly any explanation. Now though, a year later, Freya is forced to work with the handsome man she's still unfortunately married to, but doesn't know whether she'll ever be able to forgive. Will Lucas ever let Freya in, so she can finally know the truth of why he left; or will he break Freya's heart all over again?
"I suppose it's done now. A broken heart can't ever be truly mended, can it? Slapped back together and held together with sticky tape maybe, so a person can keep on living even though there are days she doesn't want to, but not fixed."
What an utterly touching, fast-paced, captivating read Ms. Baine has delivered in this story about overcoming one's fears and getting a second chance at happy ever after with the one person they're meant to be with. The way this story started had me feeling sorry for the heroine, as Lucas doesn't make things easy for Freya to deal with. There's something about Christmas and what they're talking about that makes Lucas see there's no other option but to walk away. No way is he willing to ruin Freya's chance of getting everything she's ever wanted including her chance to be a mother. Is walking away the right thing to do? Will Freya be able to move forward or has what Lucas did to her completely broken her of her love for Christmas and happy ever after?
As for the dialogue, it was hard not to be affected by the heroine's pain when it came to her and Lucas going their separate ways. Will Lucas ever be able to make things right? Will he be able to make Freya understand that he thought he was doing the right thing for both of them by setting her free, so she could have the love, family and happiness that she's always wanted but doesn't believe he'd ever be able to give her? Moreover, the dialogue was intense due to this couple's history, Lucas's back story and the medical emergencies that arise that make Lucas realize that he may be able to give Freya what she wants most – a family of their own.
Both the main characters were riveting and I could understand why Lucas believed he was doing the right thing when it came to leaving Freya. Since he didn't have the best childhood and he was worried he'd turn out like his father, so he was better off not having children. Furthermore, the hero was hard-working and I loved how the children he treats helps him open up to Freya about his past and make him see that just because he had it rough with his dad growing up, it didn't mean he'd turn out like him. Really, Lucas is a good man and I liked how determined he was to prove to Freya that she means everything to him, especially when the heroine goes through a rough patch in the story that had her panicked and bringing up a painful reminder from her past. Will what happen to Freya in the past happen again? Will Lucas be able to help her before it's too late?
While the heroine, she's strong and brave in being able to face Lucas and finally confront him about why he left her. Since they needed to have a conversation about it because it wasn't easy for her to accept that Lucas could walk away so easily when it was palpable how much they loved each other in the past and still loved each other in the present. I also liked how hard-working Freya is and that she would do anything for her patients, which is proven by making sure the children have the best Christmas they can have, even if Christmas isn't as exciting for her as it once was. Yet, what I liked most of all about the heroine is her love for Christmas at the beginning of this story and how Lucas manages to remind her of her love for the wonderful holiday.
"What on earth are you doing?" a bemused Freya said from behind him.
He stood aside so she could enjoy the full effect of his efforts. "Christmas isn't far away. I thought we should put a few decorations up to mark the occasion."
"A few? It looks like an explosion in a tinsel factory." The corners of her mouth tilted up as she took in the scene and made it all worth it.
"I thought that was the style you preferred?" He risked a little teasing back, hoping to encourage her back to her usual sparky self.
"Believe it or not, there is some order called for when it comes to Christmas decoration. Symmetry is usually a good place to start."
Overall, Ms. Baine has delivered a wonderful read in this book where the chemistry between this couple was intense; the romance delightful as there's still so much love between these two, despite how much Lucas hurt her; and the ending had me cheering for this couple's happy ever after, as Lucas realizes that he can't live without Freya. Will he be able to win her back, especially after what he does to make things go awry again in their relationship? However, it was the epilogue that wrapped this story up nicely, because of how far Lucas has come that has made him realize he'll never be a terrible father like his own was. I would recommend Their Mistletoe Baby by Karin Baine, if you enjoy second chance romances; medical romances; the surprise pregnancy trope; or books by authors Kate Hardy, Scarlet Wilson, Amalie Berlin and Alison Roberts.

Book Info:

Publication: October 17th, 2017 | Harlequin Medical |
A Christmas dream come true
When handsome pediatrician Lucas Brodie walked out on his wife, Freya, at Christmas, he left her heart and hopes for a family shattered. This year, nurse Freya is determined to put the pain behind her by volunteering on a trip to take sick children to Lapland. But then she discovers Lucas is coming, too!
As they begin to fall in love again, Lucas wonders–could he give her a family after all? Can he put his past behind him? Perhaps an unexpected pregnancy could be the Christmas miracle to make Freya's dreams come true…