In Their One Night Baby (Paddington Children's Hospital #1) by Carol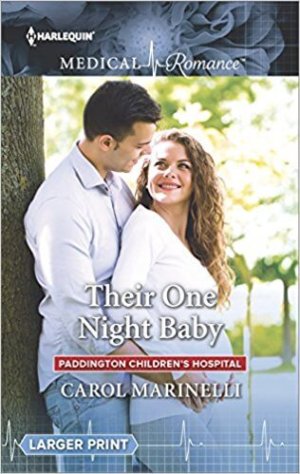 Marinelli, Dominic McBride and Victoria Christie are always at odds whenever they interact with each other, simply because Victoria is a challenge for Dominic and vice versa. But when they begin working together to save the hospital where they work from being closed, they find it hard to ignore the chemistry between them. So, when Victoria discovers she's pregnant, will Dominic be able to convince her to give them a chance at happy ever after?
"Victoria, the more I know you, the more I'm amazed at the speed with which you dropped your knickers."
"Stop it!"
"It's true. That condom had probably expired."
"So why are you nervous then?"
"Because like every other parent, I want our baby to be fine." He gave her a smile. "You do believe in fairytales."
Ms. Marinelli has penned a wonderful start to this series with this book, which encompasses the surprise pregnancy trope, two main characters that have a lot to overcome when it comes to achieving their happy ever after, and a plot that drew me in immediately and didn't let go until I found myself at the end. The way this story started had me feeling sorry for the little girl that Victoria and her partner are treating. Would she ever be healthy again?
As for the dialogue, it made me sympathize with both the main characters because of their back stories and I could understand why Dominic questioned Victoria about the baby after what his ex did to him. How could he possibly trust another woman after that? However, in saying that, I really enjoyed all that they go through with the medical issues that arise; the way Dominic finally begins to heal from his past by confronting those that wronged him; and that the heroine gave the hero a chance, even though that wasn't easy because she knows what it's like to have parents that didn't do what was right for their child.
"Weren't you the one who told me to fight for what's important?"
"I'm doing so," Dominic responded. "It doesn't have to be with his fists."
"I'm not talking about physically fighting, but they're your family."
"And I'm doing my best to sort it out, but I'm not a person who just rushes in. I believe that if you say all is forgiven, then you need to mean it. I can't say I'm there yet."
The heroine is resilient and courageous in everything she's gone through in her life to become the woman she is now, and I liked how she ended up giving Dominic a chance to prove that he's the right man for her , as he'll be a good father to their baby. Besides, the two of them being together goes a long way to healing them both when it comes to their pasts. While Dominic, he has a lot to overcome with his family and then convincing Victoria to give him a chance. Certainly, she provides quite the challenge for him, but I was glad that he didn't give up, even though she pushed him away time and again. Because she believed family was important and he needed to fix things with his.
Overall, Ms. Marinelli really impressed me with this book where the main characters had some really good chemistry, which had me enjoying every moment Victoria and Dominic conversed. The way this story ended was delightful, as the hero proves his love with his words and actions. Who knew that when he ran from his past that he'd find everything he wasn't looking for – love and happiness? I would recommend Their One Night Baby by Carol Marinelli, if you enjoy the surprise pregnancy trope or books by authors Robin Gianna, Annie O'Neill or Amy Ruttan.
Book Info:

Publication: March 21st, 2017 | Harlequin Medical | Paddington Children's Hospital #1
Their sexy cease-fire!
Working together to save Paddington Children's Hospital, paramedic Victoria Christie and Dr. Dominic MacBride never fail to challenge each other. Until one night they discover a new way to relieve the tension…by turning their arguments into reckless abandon!
Dom came to Paddington's to escape a betrayal and has no intention of falling in love—but when Victoria reveals she's pregnant he finds himself reevaluating his lone-wolf status. Now he's fighting for the woman who fires his blood, and their surprise baby!