In Their Pregnancy Gift (Miracles at Muswell Hill Hospital #2) by Kate Hardy, Alex Morgan believes keeping his distance from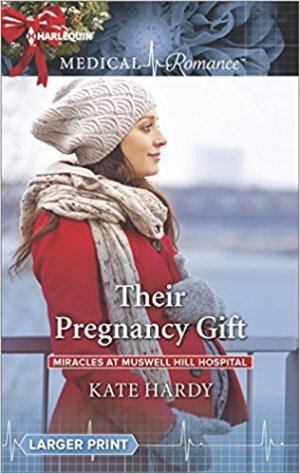 people will help him deal with the news he's recently learnt about his biolological father and what it could mean for his future. But the moment his fellow doctor Danielle 'Dani' Owens gives him a chance to open up about what's troubling him, he never imagined that one incredible night could lead to a forever after he never imagined for himself. Will Alex be able to overcome the fear he has about his uncertain future to achieve happy ever after with Dani, or will he lose the woman he's falling in love with because of her own fears?
"I can't wait to get rid of you," Danielle said. "You've made me miserable, you've stopped me doing everything I love doing, and I actually hate you." She looked up to see Alex, the new consultant on the maternity ward, standing in the open doorway of her office.
He raised an eyebrow. "Practicing your break-up speech?"
Dani felt the colour flood into her face. "I hope I'd be a little kinder than that."
What a nicely-crafted, emotionally-driven, fast-paced read Ms. Hardy has delivered in this second book of her Miracles at Muswell Hill Hospital series that had me smiling and amused as to the heroine's reaction to finally getting off the obstacle that has kept her from doing the things she loves. Is the obstacle really what the hero thinks it is? However, it was from the moment the hero unloads everything that's bothering him to Dani that this story drew me in completely, as the hero and heroine have major decisions to make. Will Alex have the testing done to find out if he has the same medical condition his father died of? Will the heroine have to make one of the hardest decisions she's ever had to make when it comes to the consequences of her one night with Alex?
"So what are you saying?"
"I'm saying," she said, "that maybe you could do the same. It doesn't have to be a year of saying yes. Six months' maybe, or even a week." She paused. "Or just tonight."
His breath caught. "Are you suggesting…?"
"I'm saying that you need to stop thinking and start doing. Live in the moment. No strings."
As for the dialogue, it was intense due to the main characters back stories; the medical emergencies these two have to handle; and what the hero goes through in discovering whether he'll have a chance at love, family and happiness. Will he receive good news? Will Dani be able to help him deal when it comes to his uncertain future? Moreover, the heroine is resilient, courageous, sassy, and I liked how she helped the hero realize that knowing what the future holds for him is important. I also liked how she gave Alex a chance, even though she hasn't had the best of luck with men and after everything she's been through with her ex-husband that has made her wonder what's wrong with her.
How about reading?"
"Crime novels. Preferably ones with a forensic scientist, though there's a series I really love with a forensic archaeologist," she said. "You?"
"Thrillers. I'm a big Lee Child Fan," he said.
"So we're sort of on the same page," she said with a smile.
He groaned. "I'm ignoring that terrible pun."
"What, not even a glimmer of a smile, Dr Morgan?" She batted her eyelashes at him
While the hero, he's been through so much and it's understandable why he holds everyone at arms length because he fears what will happen to him in the future. I also liked the decisions the hero made when it came to finally knowing whether he'd end up with the same medical condition his biological father had; and doing his best to repair his relationship with the man that raised him. Will his efforts help to heal the close bond his mom and her husband once shared? Yet, what I liked most of all about the hero is how he blossoms throughout this story in going from a reserved and distant man that doesn't know what the future holds for him to opening up to Dani with a little teasing banter and finding his way back to those he was once close to. Will he be able to repair his friendship with his best friend?
Overall, Ms. Hardy has delivered a fantastic read in this book where miracles do happen; the chemistry between this couple was intense; the romance special, because these two needed each other to heal from their pasts; and the ending had me ready to cry happy tears with the wonderful news these two receive and everything Alex says to Dani that cements their future together. However, it was the epilogue that wrapped this story up nicely, as Dani and Alex are so happy together. I would recommend Their Pregnancy Gift by Kate Hardy, if you enjoy medical romances, the opposites attract trope, or books by authors Karin Baine, Amalie Berlin, Janice Lynn and Emily Forbes.

Book Info:

Publication: October 17th, 2017 | Harlequin Medical | Miracles at Muswell Hill Hospital #2
One night before Christmas…
Dr. Danielle Owens can't help but be intrigued by hot, brooding IVF consultant Alex Morgan. Then Dani offers him a chance to unload, leading to one very intimate night and a life-changing consequence!
Alex wants to do the right thing, but is clearly troubled. And after her divorce, Dani won't commit to a man who doesn't love her–even if she is pregnant! Alex wants Dani and their baby very much, but to win her he must confront the demon that has been holding him back!