Their Surprise Daddy by Ruth Logan Herneis such an enjoyable read, including the opportunity to read once again about the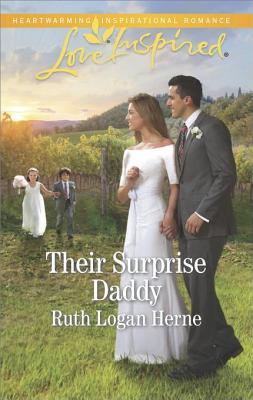 Gallagher family, about whom I read in other Love Inspired books. They are such a close loving, fun loving and tight knit family.
This time readers have a chance to read Rory's story, when she is made a temporary "co-guardian" of two precious sweet orphans. The other "co guardian" is the children's older cousin Cruz, who is called to his hometown in upstate New York to help determine how the children can be cared for and kept in the United States safely. His mother, with whom he has a conflicted and painful relationship, has been caring for the children despite her failing health.
Cruz's sadness over the children's mothers' passing, as he was close with his cousin, spurs him to try to help, even amidst pressure from his employer in New York City to return to his work. When Cruz' mother goes into heart failure, he aims to have a reconciliation with her before it is too late. Woven throughout, is the gradual connection Rory and Cruz start to feel, and the affection Cruz quickly feels for his young cousins.
Thank you for the opportunity to read and share this book! It was beautiful and I strongly recommend it to my fellow romance readers.

Book Info:

Publication: May 1, 2017 | Love Inspired |
Cruz Maldonado has vowed to provide for his beloved cousin's orphans. With his estranged mother's health failing, they might soon be Cruz's only family. But the kids' immigration status brings complications. Mostly -Miss Rory—their idealistic young teacher–and Cruz's court-appointed co-guardian. Cruz has the means to give the kids a good home, yet Rory Gallagher wonders whether he has the heart. That is, until she glimpses the sweet small-town boy inside the polished, handsome Wall Street exterior. Soon they both begin to wonder if this temporary partnership could turn into more–a chance to raise the children as husband and wife.