In Theirs to Cherish by Shayla Black, Callie has been on the run for years, having been accused of a crime she didn't commit. As a teenager, she didn't know what else to do. As an adult she sees no other way.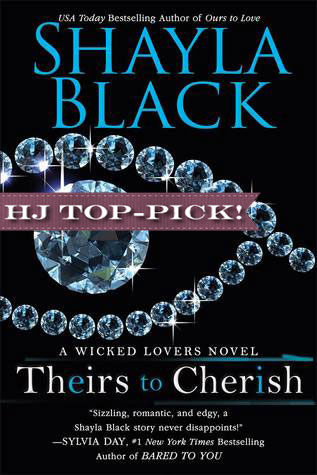 It is at The Dominion, a BDSM club, that her running has stopped for 4 years. She feels safe there, safer than she ever has. She also loves Thorpe, the Master of the Dominion…but thinks he feels nothing. When Sean, a new member of the Dominion shows a lot of interest in Callie, she submits to him and with Thorpe's permission, is collared by him. Whatever her reasons initially, she finds herself feeling more and more for Sean as she gives him more and more of herself. She might still love Thorpe, but she is loving Sean also. Despite her feelings of love, she also has feelings of misgivings about Sean. There is just something about him and the questions he asks her that ring little alarm bells in her head.
What started off as a job for Sean has become so much more as he falls for Callie. He is walking a fine line though and when Callie decides to run again, there is no question in his mind that he will risk it all for the woman he loves.
Thorpe has been fighting his feelings for Callie for years. There is nothing more he'd like than to own her, but he has intense issues that hold him back just as much as the age difference does. Watching Callie with Sean tears Thorpe up inside, but he is doing what he feels is best for Callie. He takes his role as Master and protector very seriously.
With Callie on the run, frightened, and the discovery that it's not only the FBI looking for her, Thorpe and Sean unexpectedly join forces in more ways than one to love her and protect her. Callie does not want any one in danger because of her though, and she resists their efforts until resistance proves futile. If she can have them both even for a short time, both the men she loves, she will have her dream. Callie still trusts few and fears she will never be able to stop looking over her shoulder. Will she ever be able to be who she once was again? What about the 3 of them being together? Sean is open and loves Callie, but Thorpe remains very closed off despite it all…unwilling to risk it…afraid to risk it. His past has damaged him so badly that he believes Sean and Callie will be better off without him, no matter how much it hurts all of them. Can they make it work, or will Callie have to let Thorpe go?
This is the first book I've read by Shayla Black and it was fantastic! Although this is part of a series, Theirs to Cherish can definitely be read alone.
Callie was a little hard to understand at times. She first ran when she was 16, and she just kept running…no looking back or checking into things. She's supposed to be a submissive, but for a while I wasn't really sure if she was or if it was a cover. She was unable to truly submit due to her lack of trust and her instinct to run…instead of trusting in the strength and power of either the Master or her Dom. I felt like she didn't really think things through before the panic set in.
Both Thorpe and Sean are strong, hot, dominant, but different men. They both love Callie though, and against the odds this works to bring them together – even if they don't particularly like each other. I loved that they were able to put their differences aside for Callie…and the result is powerful!
All three of the main characters are dealing with different things, things that make them hold back on emotions and attachment. Watching them work through this (or not able to work through this) was as important in Theirs To Cherish as protecting Callie and forming relationships. Shayla gives us lots of drama in Theirs to Cherish – enough to keep you on edge and enthralled in the story. Her writing is clear and easy to read, which will capture you and make Theirs to Cherish a book that will stand out. Shayla gives us a great plot, and mixes suspenseful intrigue and action with eroticism effortlessly.
I'd highly recommend Theirs to Cherish to any reader who enjoys romance that goes to a whole different level, suspense and erotica with some very memorable characters.
Book Info:

Published March 4th 2014 by Berkley Heat
The perfect place for a woman on the run to disappear…
Accused of a horrific murder she didn't commit, former heiress Callie Ward has been a fugitive since she was sixteen—until she found the perfect hideout, Club Dominion. The only problem is she's fallen for the club's Master, Mitchell Thorpe, who keeps her at arm's length. Little does she know that his reasons for not getting involved have everything to do with his wounded heart…and his consuming desire for her.
To live out her wildest fantasies…
Enter Sean Kirkpatrick, a Dom who's recently come to Dominion and taken a pointed interest in Callie. Hoping to make Thorpe jealous, she submits to Sean one shuddering sigh at a time. It isn't long before she realizes she's falling for him too. But the tender lover who's slowly seducing her body and earning her trust isn't who he claims…
And to fall in love.
When emotions collide and truths are exposed, Sean is willing to risk all to keep Callie from slipping through his fingers. But he's not the only man looking to stake a claim. Now Callie is torn between Sean and Thorpe, and though she's unsure whom she can trust, she'll have to surrender her body and soul to both—if she wants to elude a killer…