Then He Kissed Me by Laura Trentham is book two in the Cottonbloom novels but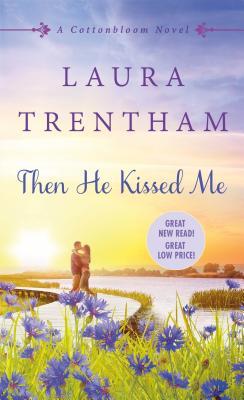 can certainly be read as a standalone. This book revolves around Tally Fournette and Nash Hawthorne. Both characters were best friends growing up until tragedy separated them. Now Nash is back in Cottonbloom and ready to continue their friendship and possibly more. When Nash and Tally try to combine their past with their present, sparks fly as they realize what's in front of them.
Tally and Nash are both different now. Nash is now a professor and Tally owns her own gym. Both are successful in their own right but Tally doesn't believe she's good enough for Nash due to her dyslexia and Nash has his own insecurities that he must work through.
"She was why none of his relationships had ever lasted. He hadn't left part of himself on the river, he'd left part of himself with her."
I loved Nash's character. I would describe him as a sexy geek, who wants a second chance with his best friend. Even though they both have their own issues, as long as they are together they can get through anything. Their relationship wasn't rushed and allowed time for them to get to know each other again. I really enjoyed how easy it was for them to pick up their friendship. Their connection to each other is true and unbreakable.
Overall, Then He Kissed Me, was a heartfelt romance and any reader who appreciates the friends to lover's trope will enjoy this book.
Book Info:

Publication: June 28th, 2016 | St. Martin's Paperbacks | Cottonbloom Novels #2
Can two hearts come together in one divided town?
As a boy, Nash Hawthorne spent countless afternoons on the Louisiana side of Cottonbloom with Tally Fournette, wading in the river, peeling oranges and catching frogs. When illness stole his mother, Nash yearned to take Tally and run away—for good. Instead, he crossed the state line to live with his aunt. It was a short distance as the crow flies, but it swept him into a whole new world…
After Nash left, Tally managed to struggle through her own losses without him. But now that she's crossed paths with him again—at Cottonbloom College, where the grown-up, gorgeous Nash teaches history—she is reminded of their cherished youthful connection…and an attraction that has only gotten stronger with age. Between Tally's possessive ex and Nash's snobbish aunt, no one thinks they belong together. In a town torn apart by old resentments and rivalries, can they find their way back to the life they once shared—and turn their long-lost dreams into a real and lasting love?