This Thing Called Love (Mirror Lake #1) by Miranda Liasson is the first book that I have read by this amazing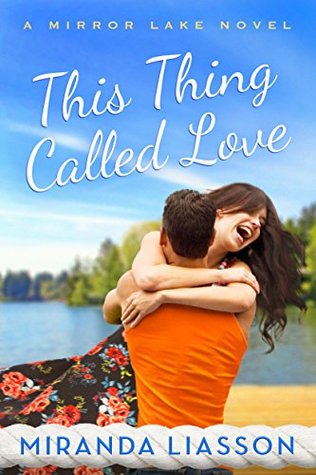 author and it is the first book in the Mirror Lake Series. It is a heartwarming second chance love story. In the face of tragedy love can survive.
Olivia Marks is a self help book editor that returns to her home town of Mirror Lake after the death of her sister. She was chosen as the guardian of her little 4 week old niece. Thinking that her sister made a mistake in naming her, wondering what could possibly possess her to chose her, Livie is filled with doubt. What if she screws up? How can she make this work when her life is so busy to begin with? How can she stay away from her still hot as sin ex flame Brad who happens to be little Annabelle's uncle.
Brad Rushford has major doubts that Olivia can raise little Annabelle. After raising his brothers and sister after the death of their own parents he know exactly what Olivia faces. He would like nothing better than to have Olivia high tail it out of town, leaving Annabelle in Mirror Lake with his family. So he starts to plant seeds of doubt that Olivia can do the job.
But Brad can't stand to see the hurt and fear in Olivia's face, and Olivia starts to have doubts about moving back to New York. Can the man who doesn't want to raise another family, who will do anything to keep Olivia and Annabelle in town open up his heart to love, and will the woman who has been so focused on her career out of fear that she is nothing more than her job, finally stop running and realized that everything she ever wanted is right here in Mirror Lake in the arms of Brad Rushford.
I loved the chemistry between Brad and Olivia. They set of sparks just being in the same room. It was like no time had ever passed between these two. When they finally let down their walls and discussed the reasons that their relationship did not work in the past, it was like an Ah ha moment for the both of them. I loved how both truly loved and cared for Annabelle. Both Brad and Olivia only wanted the best for this little girl. Through shared grief, the death of Olivia's sister and Brad's brother, they found hope that maybe if they opened their hearts, if they let love in, if they were honest and open with each other, they could move forward and have a life together. Their friends and families were funny and supportive. They added humor and light to the story.
I look forward to more stories from Mirror Lake and more from this amazing author.
Book Info:

Published May 1st 2015 by Montlake Romance | Mirror Lake #1
New York City self-help editor Olivia Marks faces her toughest assignment yet: parenthood. When her sister dies in a car accident, the career-oriented Olivia suddenly becomes the guardian to her four-week-old niece, Annabelle. She also becomes a challenge for Annabelle's uncle, Brad Rushford, an old flame whose gorgeous green eyes bring Olivia's fevered memories rushing back.
As the two circle each other in their small hometown of Mirror Lake, Olivia finds that Brad is as sexy and charming as ever—and now he's the darling of the town as he expands his successful lakefront restaurant. Is his flirting designed to get serious, or to lower Olivia's defenses to give up guardianship? When she finds out about the turreted, brick Victorian house Brad tours with a realtor and an attractive, no-strings-attached reporter—the same place where he and Olivia shared an unforgettable night years ago—Olivia wonders if he's looking for a future with her, or planning to start a new life with someone else?
In the first heartwarming Mirror Lake story, steamy trysts and surprising twists lead two people to a future neither one expected.